[Publisher] ORIX Group
Looking at the photos below, you might not think the terrace with a gorgeous view and a spacious café space could be part of a logistics facility…
But in fact, these pictures were taken inside a massive logistics facility with a total floor space of 77,372 m2! When you think about logistics facilities, a lot of people imagine cold, lifeless buildings, but isn't that image quite different from these pictures?
With increasing demand for e-commerce, logistics is now an essential part of our lifestyles. In order to support the growing needs of logistics, there is high demand for improving and modernizing these facilities. One such facility is the "Matsubushi Logistics Center" in the town of Matsubushi, Kita-Katsushika, Saitama Prefecture.
We sat down to talk with Masayuki Fukushima and Marina Sato, from the Logistics Business Department of ORIX Corporation's Real Estate Headquarters, who worked on the Matsubushi Logistics Center. While taking a tour of the facility, we asked about its functions and the background behind the demand for these kinds of logistics facilities.
Comfortable and relaxing... making logistics facilities that are "attractive workplaces"
—Thank you for taking the time to talk with us today.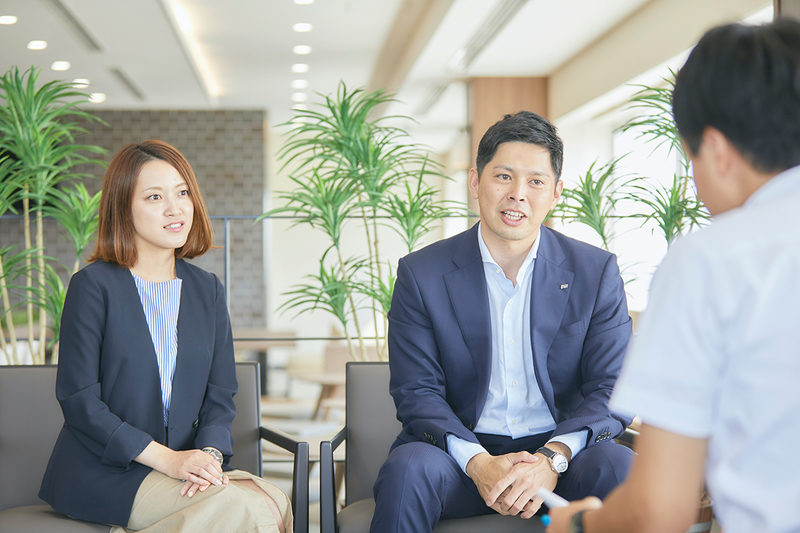 Fukushima and Sato: It's our pleasure.
—Can you start by giving us an overview of this facility?
Fukushima: The Matsubushi Logistics Center is a multi-tenant logistics center that was completed in March 2019, located in the town of Matsubushi in Kita-Katsushika, Saitama Prefecture. It is the largest of the 42 facilities nationwide that ORIX has been involved with, including those currently in development, and has a total floor space of 77,372 m2.
It has good access to central Tokyo and is close to the Tokyo Gaikan Expressway (Tokyo Outer Ring Road) and National Route 16 that surrounds the greater Tokyo area. It is the ideal location to use as a hub for a variety of logistics companies, regardless of industry.
—I see. When you're in here, it's very easy to forget that this place is a "logistics facility." I was surprised when I entered as it's a very open and stylish space.
Sato: Thank you. This fourth-floor cafeteria is a major feature of the facility. The Matsubushi Logistics Center can accommodate up to eight tenants, and this space can be used by employees and other related parties. There's also a small area where you can kick off your shoes and relax.
—And the view is amazing!
Fukushima: The cafeteria has big windows that open out onto the terrace. The ceilings of each floor are much higher than those of most regular buildings, like the ceiling on this fourth floor which is around 30m high. You get great views of the lushly green town of Matsubushi, and on clear days you can even see Mt. Fuji.
—It doesn't feel like we're in a logistics facility. Usually when you think about logistics facilities, you imagine cold and lifeless buildings. Why does the Matsubushi Logistics Center have such a relaxed atmosphere?
Sato: We wanted to help solve the issues faced by logistics companies from the perspective of a developer. With the popularization of e-commerce, the number of deliveries is increasing every year. In addition, the amount of work at logistics hubs is increasing due to the increasing segmentation of work, such as the sorting and inspection of products. However, despite the need for increased manpower, there is a shortage of workers who want to work in the logistics industry due to its reputation as being "hard work," such as having to carry heavy loads.
—The worker shortage in logistics has been in the news as a social issue. I often use e-commerce so it is an issue that is close to my heart.
Fukushima: Exactly. We designed the Matsubushi Logistics Center with the concept of "promoting health while working comfortably," in the hope that it would be a step towards resolving this issue. By creating an environment where people can work comfortably and healthily, we're hoping that more people will want to work here and stay here for a long time.
When I say "promoting health," I don't just mean by creating comfortable places like the cafeteria and other facilities, but also the health of the people working here.
—"Promoting health while working," is an interesting concept. I'm curious about how that works.
Fukushima: In that case, I'll explain it further.
"Promoting health while working" to make everyone happy at work
Fukushima: This is our fitness room. It has equipment such as exercise bikes and treadmills, and there are showers in the changing rooms. Employees and related tenants can use this space free of charge.
Sato: Employees of tenants can rent free wristband-type wearable devices. Using these devices, they can manage their step counts, calorie consumption, sleep time and more through a smartphone application. This is based on the remote health promotion program "Medically," offered by MEDCARE Inc., one of our investees. Not only can they manage their data, but they can also use the app's chat function to consult doctors and certified nutritionists online for medical and nutrition advice.
Fukushima: People can check their daily activities through the app, which helps them understand their current health situation and care for their own bodies on a daily basis; for example, they might think "I didn't get much exercise today so maybe I'll go to the fitness room and exercise a bit."
Additionally, senior citizens are expected to play an active role from now on. We hope that senior citizens will be attracted by the kind of workplace that places importance on promoting health.
—Awareness and interest in health is growing across all generations. Obviously it is important for senior citizens, but it seems that there are needs across a wide range of generations.
Sato: Exactly. From the perspective of making this "a facility that is attractive to a variety of people," that includes encouraging the activity of not just men but women as well. For example, a lot of logistics facilities are designed from a male-oriented perspective, so there aren't enough bathrooms for the number of women working there. The design at ORIX's logistics facilities is the same as that of the latest office buildings, ensuring that there are enough spacious bathrooms, and also that they are furnished with lockers for storing small items. We pay close attention to details like this from a female perspective.
Enabling the use of robots and reducing the burden on workers
Fukushima: Next, we will show you the heart of the logistics facility: the warehouse section.
—So this is where goods are loaded and unloaded from trucks? It's so spacious!
Fukushima: Yes. The first and third floors are for loading and unloading, and the second and fourth floors are for storage.
There are a lot of warehouses where the area for loading and unloading goods is located outside, but at the Matsubushi Logistics Center, that area is indoors. This allows everyone to work without being affected by the weather, and also helps to prevent noise and light from leaking outside.
Sato: Not only that, but this facility also features a "six-month free robot rental service." We are collaborating with "RoboRen," a robot rental service provided by ORIX Rentec, an ORIX Group company. We anticipate that it will help reduce the work burden on employees and help with the labor shortage issue.
There are ten types of robots available from nine manufacturers, such as robots that automatically carry packages to designated locations while avoiding obstacles, and robots that carry boxes while following behind pickers.
Fukushima: Robots are continuously evolving and new products are being constantly released. The cost to introduce these robots is high and they quickly become obsolete once they are introduced, making it hard for companies to take a chance on them.
That's why we are currently offering the six-month free rental service for these robots to companies who move into the Matsubushi Logistics Center. In addition to providing support on how to use them, we also offer consultations regarding which types of robots would be most effective.
Is know-how from the condominium business used to create a comfortable workplace?
—I've learned a lot from seeing this state-of-the-art logistics facility. But to tell you the truth, I'm a little surprised that ORIX is involved with logistics facilities.
Fukushima: We hear that a lot (laughs). ORIX was founded in 1964 as a leasing company and has developed various businesses since then. ORIX began developing its logistics facility business in 2003 after requests from customers asking if they could lease a building.
Since ORIX operates in a wide variety of businesses, we are able to combine these various types of expertise and flexibly propose services that respond to customer needs. For example, ORIX's know-how from the condominium business has been used in securing the best sites for logistics and renting trucks and robots, as well as creating comfortable workplaces.
—I'm excited to see what the future holds.
Fukushima: We want to utilize what we learned in the development and operation of this facility in our next project. We want to value our regional relationships and think about the future of the logistics business from the perspective of contributing to local communities, such as through employment.
Sato: As times change, the expected role of logistics facilities is also changing. For example, customers who prioritize emergency preparedness are increasing. In recent years we have been introducing emergency generators into the logistics facilities we are developing, including the Matsubushi Logistics Center.
We would like to continue meeting the needs of our customers and stakeholders and take on various challenges while making proposals.
—We really have to keep an eye out on the new initiatives of ORIX going forward. Thank you for your time today.
Fukushima and Sato: Thank you very much.
[Interviewer]
Related Content