Increasing pace of green transformation in businesses
These days it the norm for companies to actively engage in social issues. Indeed, the value of a company is increasingly linked to how it can contribute to sustainability in its truest sense.
Green transformation (GX) describes the process through which companies seek to decarbonize the energy they consume. There is increasing pressure on companies around the world to reduce their use of fossil fuels in all aspects of their business, including their supply chains.
ORIX first invested in wind power generation approximately 20 years ago. It has since developed a large renewable energy business in Japan and around the world, encompassing solar, wind, geothermal and biomass.
ORIX has recently added a Power Purchase Agreement (PPA) service to its renewable energy solutions. ORIX installs solar power generation and storage equipment at customer-owned facilities, and then supplies the customer with the electricity generated. This third-party ownership model is attracting increasing interest from companies across the country.
The installation of a solar power generation system is a major step for companies wishing to decarbonize; however, it is one that many companies are hesitant to take, due to the up-front and ongoing investments needed, including capital investment and maintenance. ORIX's PPA service lowers the bar to installing such a system and, by ensuring a stable supply of renewable energy, it contributes to the reduction of CO2 emissions.
Kaihara Denim and its initiatives for decarbonization
Kaihara Corporation (Kaihara Denim), Japan's largest denim fabric manufacturer, was established in 1893. Headquartered in Hiroshima Prefecture, it is engaged in all aspects of denim manufacturing, including cotton spinning, dyeing, and processing. As part of its efforts to save energy, over the last ten years or so, the company has succeeded in reducing its CO2 emissions by more than 20%; it has also long taken an active interest in natural resource preservation, since water is indispensable to its dyeing processes. In April 2021, Kaihara Denim signed up to what was at the time, one of Japan's largest PPAs.
Yasuhiro Terada, General Manager, Facility Environmental Management Department, Kaihara Corporation, explained why the company chose to sign up to the PPA service.
"At Kaihara Denim, we have promoted various environmentally friendly initiatives, including voluntarily setting wastewater processing standards that are significantly more rigorous than official standards, and switching to the use of fuels for our machines that generate minimal air pollution. The reason for this is that denim production is only possible by coexisting with nature and local communities. Over the past three years or so, in our communications with overseas clients and other stakeholders, we have experienced first-hand that awareness of sustainability is growing stronger. We wanted to be more sustainable, and we identified the use of renewable energy as one way of achieving this. However, we also recognized that there were many obstacles to operating our own solar power generation facilities, including initial costs, subsequent maintenance costs, and stabilizing the amount of power we generated."
"Ensuring a stable supply of denim to countries around the world requires vast quantities of energy," continued Terada. "ORIX's PPA service promised both to minimize initial costs and reduce CO2 emissions, and so we felt able to give it serious consideration."
Shota Kono, a member of the Electric Power Business Department II's Solar and Storage Battery Sales Team I, recalled his discussions with Kaihara Denim.
"We first held talks with Kaihara Denim in 2019. In addition to developing and operating solar power generation facilities, at ORIX we are engaged in wide-ranging environmental energy business activities, including electricity sales, energy-saving initiatives, and recycling—this is something that appealed to Kaihara Denim; the company was also extremely drawn to the novelty of our PPA service. During our discussions, Kaihara Denim expressed an interest in reducing CO2 emissions across its entire business—not only at Sanwa Factory, where the current PPA is underway, but at its other factories as well. Consequently, we believed we could be of use in its efforts to decarbonize, in addition to solar power generation."
The solar power generation system installed at Sanwa Factory has the potential to reduce CO2 emissions by approximately 12%, while the electricity supplied by the system is expected to be roughly 25% cheaper than that previously used at the factory.
What are ORIX's unique strengths?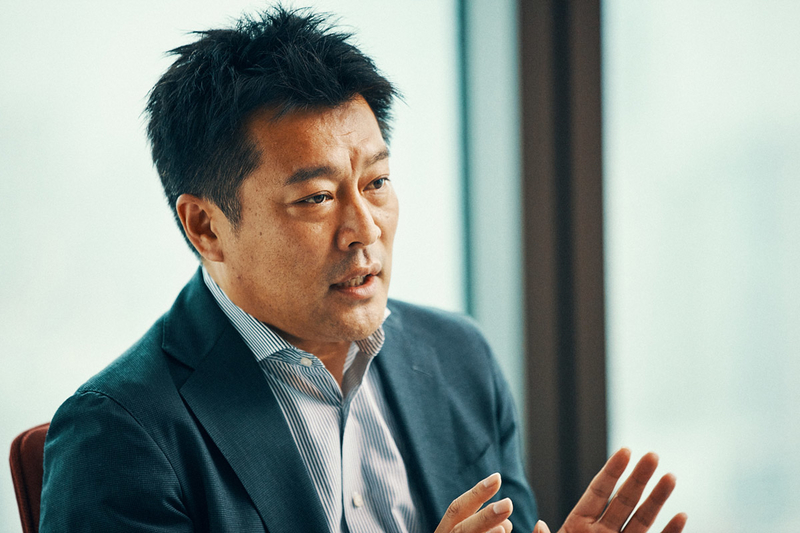 Takuya Horiuchi, Head of the Electric Power Business Department II, is responsible for ORIX's PPA service.
"At ORIX," he said, "we started a rooftop solar power generation business more than 10 years ago, and we have a large number of experts in this field. People often think that solar power generation is simply a matter of installing solar panels; in reality, however, having experienced project managers capable of overseeing various parameters is indispensable.
"Solar power generation systems are influenced by the weather, and so it is impossible to avoid significant fluctuations in the quantity of power they generate. Although the weather tends to follow certain patterns, detailed knowledge and data-based simulations—from both the demand and supply sides—are required to ensure the amount of electricity generated matches the particular electricity demands of a customer at any given time. Furthermore, after operation begins, maintenance is also an integral part of ensuring efficient long-term operation. At ORIX, we have installed solar power generation systems across the country, and so we have the maintenance expertise required to maximize power generation volumes. Indeed, our diverse human resources enable us to offer a comprehensive PPA service—and this is a strength unique to ORIX."
As to why ORIX is able to draw up concrete ways to reduce both CO2 emissions and costs, Horiuchi continued:
"Customer demand for electricity fluctuates, as does the supply of electricity from the solar power generation system. We take care to ensure our plans for reducing CO2 emissions are economically rational. Drawing on our past experience and data, we can convince potential clients that the installation capacity we propose is optimal—indeed, this is something that ORIX is uniquely capable of doing. Moreover, the relationship between ORIX and the customer does not end once the solar power generation system has been installed; rather, it is vital to take a long-term perspective—one that includes maintenance. Our proposals work on the basis that installing the system is the start of our relationship—and we believe this approach offers great benefits to the customer."
Shinjiro Okuma, Head of the Electric Power Business Department II's Solar and Storage Battery Product Team, was the project manager tasked with overseeing the installation of the system at Kaihara Denim. He provided his take on the PPA:
"Across Japan, there has been a rapid increase in the desire to reduce CO2 emissions, and we are receiving a growing number of inquiries from manufacturers in particular. Plants use electricity in different ways, depending on what they produce. For this reason, we make predictions for and evaluate each individual plant, based on the electricity consumption histories provided by the company, and based on interviews to find out how this electricity is actually used. When a solar power generation system is installed, there is a possibility that the plant in question cannot consume all the electricity generated. In the future, we hope to propose systems that enable this excess electricity to be used in a more effective manner. If this electricity could be used by the client company in other ways, it would further contribute to decarbonization."
When it comes to reducing CO2 emissions, many companies do not know how to begin. Through the experience it has accumulated in both its solar power generation business and its electricity retail business, ORIX is able to extend a helping hand to such companies. Today, companies are under pressure to contribute to the resolution of social issues. By providing support for the increasing number of companies implementing GX, ORIX is embracing the challenge of decarbonization.
*Departments and positions are correct as of the time of writing
*ORIX and Kaihara Denim employees are pictured without face masks for artistic reasons
Related Content