Smart and Resilient Society
We contribute to the realization of a smart, resilient society through the products and services of our rental, auto-related, real estate and other businesses. Our rental business supports corporate R&D with an extensive equipment lineup and also offers cutting-edge robot rental services.
In the auto-related business, telematics services are used for companies' appropriate management of labor and prevention of accidents. In addition, we are also working on the development of special vehicles that respond to customer needs such as disaster response and operational efficiency, and a truck rental business that contributes to restoration and reconstruction efforts during earthquake disasters. In the real estate business, we are developing logistics facilities and office buildings that provide BCPs (business continuity plans).
Realization of a smart society
Rental Business (Corporate R&D Support)
ORIX Rentec offers rental services for high-tech equipment such as electronic measuring instruments, scientific and environmental analysis equipment, IT equipment and medical devices. Its rental lineup included 180 million units in 32 thousand categories as of March 31, 2019. We support R&D and asset optimization with rental terms tailored to customers' needs, from short-term leases of less than a month to mid-to-long-term leases of more than one year. We also offer measurement services to support customer outsourcing and IT services aiming at optimum operation of customer IT assets.
Robot Rental Business (Support for the smooth introduction of cutting-edge robots)
ORIX Rentec offers our "RoboRen" robot rental service to corporate customers. We began with collaborative robot rentals with applications in industries ranging widely from electronics, automobiles/machines, food and pharmaceuticals to cosmetics. We will expand this lineup with leading-edge robots for the fields of manufacturing, services, nursing and health care, infrastructure, disaster response and construction, agriculture, forestry and fisheries, and food industries where high demand is expected. Companies in a wide range of industries, including manufacturing, are examining the effective use of robots with increasing interest due to intensifying competition resulting from technological innovations and labor force contraction caused by the declining birthrate and aging population. At the same time, introducing robots entails high initial costs and requires expertise in areas including operating methods, which are in short supply. ORIX Rentec offers education by expert engineers and phone support and provides opportunities to check and compare robot motion operability at Tokyo Robot Lab., Tokyo Robot Lab.2, a robot showroom.
Drone business
ORIX Rentec sells and rents drones for corporate customers. We provide the latest and high-performance drones, satisfying a wide range of usage needs from short-term trial use to long-term, full-scale introduction. In addition, we operate the Drone Training School with the purpose of training drone pilots with high technical skills and knowledge for safe operation.
In recent years, technological innovation in drones has advanced dramatically, and is expected to be utilized in a wide range of fields such as surveying, infrastructure inspection, security, disaster evaluation of affected sites, agriculture, logistics and so on. With the revision of the Civil Aeronautics Act, attention is also being paid to the creation of new industries and services that promote convenience for users' daily lives. As a result, the market size of drones is expected to grow dramatically in the future. On the other hand, regarding practical application in each industry field, there are issues which require attention such as procurement of latest models, verification of utilization methods, maintenance, guidelines for safety management, and training of pilots. ORIX Rentec supports smooth implementation through sales and rental of drones and the operation of our Drone Training School.
Test Car Solution: a rental service for automatic driving technology development.
ORIX Rentec offers a comprehensive service called Test Car Solution for corporate customers, leasing measuring instruments and vehicles necessary for research and development of technologies such as automatic driving. For vehicle rentals, we are working with ORIX Auto. Through this service, we support automobile manufacturers and parts makers of increasing procurement needs for measuring instruments and vehicles in order to conduct R&D toward practical applications in automatic driving.
Related Links
Telematics service
The telematics service provided by ORIX Auto uses in-vehicle devices equipped with communication and GPS functions on customers' vehicles in order to capture in real time driver behavior such as speeding and sudden accelerations and decelerations, as well as vehicle data such as fuel efficiency. Through analysis of this operational data, we expose issues of compliance and safety during corporate vehicle operation, and provide support by suitable consulting services on appropriate labor management and prevention of accidents etc.
For corporations, we offer e-Telematics for sales vehicles and e-Telematics PRO with a digital tachograph*1 certification for transportation vehicles. In August 2018, we commenced sales of Nauto, an AI-based connected drive recorder developed by the AI technology company Nauto Inc. The drive recorder caters to the needs of corporations that wish to prevent accidents caused by distracted driving, falling asleep behind the wheel, and tailgating.
*1 Digital travel recorder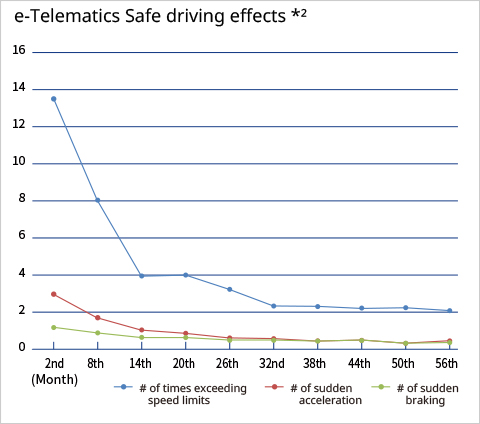 *2 Data on customers who have installed e-Telematics to more than 100 vehicles and for longer than 1 year (As of November 2018)
Data
161,000 vehicles with e-Telematics or e-Telematics PRO installed (as of the end of March 2019)
Realization of resilient society
Development and sale of special vehicles
ORIX Auto uses the knowledge it has gained from truck and specialty vehicle leasing to plan and develop mobile bank branch vehicles and mobile office vehicles that are equipped according to customer requirements.
Mobile bank branch vehicles can provide financial services without opening a branch of a financial institution.
We began developing them in response to a request from a regional bank whose branches had been damaged in the Great East Japan Earthquake. Financial institutions that are introducing business continuity plans are using these vehicles for disaster preparedness, and they are also increasingly popular as a means to raise operating efficiency in regions where financial institutions are consolidating branches.
We developed the mobile office vehicle to meet customer requirements for reduced working hours and other ways to increase operating efficiency. Our mobile office vehicles are modified work vans equipped with a desk, a chair with storage capabilities, an inverter, an air conditioner and an LED lamp that serve as simple offices and enable office work as time permits. They can improve labor efficiency, reduce employee fatigue, and reduce office rental costs at construction sites and other locations where temporary offices are difficult to install. They can also store power and so are likely to find use in areas affected by disasters.
Data (As of March 31, 2019)
Mobile bank branch vehicle sales: 100 units
Mobile office vehicle rental units in inventory: 214 units nationwide
Real estate development business
In the real estate business segment of ORIX, we are developing logistics facilities and office buildings that support companies' strengthening of BCPs.
Data
Development example: Logistics facilities
Property Name
Completion Date
Total Floor Area
Characteristics
Hasuda Logistics Center
February 2018
34,844m2
Adopted an emergency generator as a BCP measure. Adopeted LED lighting for all the lighting inside the building, external light, etc. of this property in order to cope with the reduction of the electricity usage of the tenant company.
Construction of a business warehouse is possible for this site. The building can operate for 24 hours.
Matsubushi Logistics Center
March 2019
42,967m2
Adopted an emergency generator as a BCP measure. LED lighting are employed throughout the building, enabling tenants to reduce their electricity usage.
AtsugiⅡ Logistics Center
July 2018
32,903m2
Adopted an emergency generator as a BCP measure. LED lighting are employed throughout the building, enabling tenants to reduce their electricity usage.
Development example: Office buildings

| Property Name | Completion Date | Renarable Area | Characteristics |
| --- | --- | --- | --- |
| ORIX Ueno 1-chome Building | September 2016 | 10,601.64 m2 | As part of the BCP measures, we have reinforced power supply to exclusively-owned areas during emergency by using a two line power reception (the sub line will be used during main line failure), as well as through supplying electricity with a private generator when electricity infrastructure fails. |
| S-GATE Akasaka Sannou | November 2016 | 8,758.55m2 | In addition to the structure equivalent to 1.5 times the new earthquake resistance standards, we also have high earthquake resistance performance provided by vibration control pillars and vibration control braces. As a BCP measure, we have reinforced power supply to exclusively-owned areas during emergency by using a two line power reception (the sub line will be used during main line failure), as well as through supplying electricity with a private generator when electricity infrastructure fails. As part of energy conservation and environmental measures, the building is equipped with rooftop solar panels, rooftop garden watering system using rainwater, energy recovery ventilation, lighting system activated and deactivated by human motion and daylight, energy-efficient equipment and systems such as LED lighting. |
Truck rental business (disaster recovery assistance)
ORIX Auto has developed a truck rental business with a wide range of work vehicles for construction and civil engineering operators, with stable and punctual support services such as compensation at the industry's highest standards and 24/7 accident support.
Since the Great East Japan Earthquake, we have expanded vehicles and opened new stores in the Northeastern (Tohoku) area for the purpose of assisting early restoration and reconstruction. We operate mid-sized dump trucks, cranes and light vans which are expected to have demands for constructions on the Joban Expressway, relocation projects to higher grounds, Joban Line relocation projects, and maintenance of coastline areas etc. We also operate aluminum vans and refrigerator trucks whose demand is expected to rise due to advancements in housing construction.
Since the Kumamoto earthquake in April 2016, the number of vehicles handled in the Kyushu area has been increased from approximately 1,400 units to approximately 1,900 units, and services for supporting restoration and reconstruction activities have been expanded.
Data
Number of bases for truck rental services: 57 (as of the end of March 2019)