News Release
CROSS GATE KANAZAWA Acquires LEED Environmental Performance Certification
~The mixed-use facility receives Silver ratings in two categories~
TOKYO, Japan - September 7, 2020 - ORIX Corporation ("ORIX") announced that CROSS GATE KANAZAWA, the mixed-use facility that opened on August 1, 2020, has acquired certification in two categories under the LEED (Leadership in Energy and Environmental Design) U.S. environmental performance rating system.
The facility as a whole acquired a Silver rating*1 in LEED for Neighborhood Development (LEED ND), while the two hotels that form the heart of the facility acquired Silver ratings in LEED for New Construction (LEED NC; now LEED for Building Design and Construction (LEED BD+C)); Hyatt Centric Kanazawa and Hyatt House Kanazawa have now become the first full-service hotels in Japan to acquire LEED certification.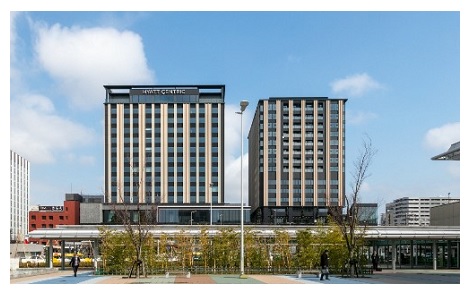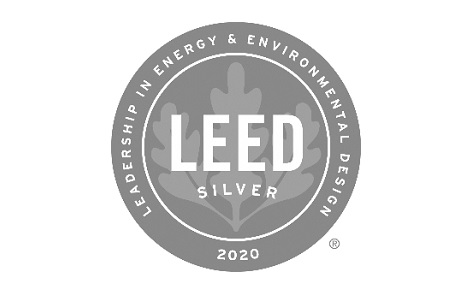 Overseen by the U.S. Green Building Council, LEED is the most widely used green building rating system in the world. Its aims are to promote architecture and urban environments that are sustainable and have outstanding energy efficiency.
CROSS GATE KANAZAWA was developed in an integrated manner, in conjunction with the pedestrianization of adjoining roads*2, giving rise to a new pedestrian space. This and other key points that led to certification are outlined below.
(1) An open façade design, resulting in an energetic street space
(2) Optimized water resource and energy use, including the adoption of water-saving sanitary facilities and reductions in energy of 17% compared to ASHRAE*3 baselines
(3) Incorporation of open spaces such as the Mirai-no-oka rooftop garden
(4) Considerations for safety, such as the adoption of low-volatility paints and adhesives for interior decorations
(5) A location with superb access to different modes of transport, including the Hokuriku Shinkansen, the Hokuriku Main Line, the Nanao Line, the Ishikawa Railway, and various bus services.
Going forward, the ORIX Group will continue to focus on the environment as it engages in the development and operation of real estate rooted in local communities.
*1 Certification can only be acquired after all the buildings, infrastructure, and other facilities within the evaluation area have been completed. The LEED® certification trademark is owned by the U.S. Green Building Council®, and is used with permission.
*2 Kanazawa City pedestrianized the roads adjoining the facility to the south and east at the same time as CROSS GATE KANAZAWA was being developed.
*3 The American Society of Heating, Refrigerating and Air-Conditioning Engineers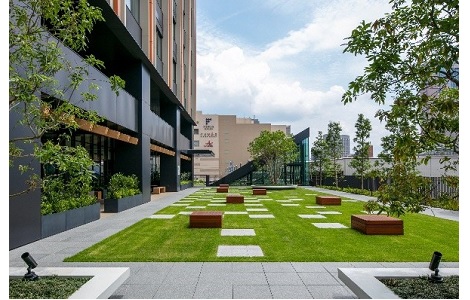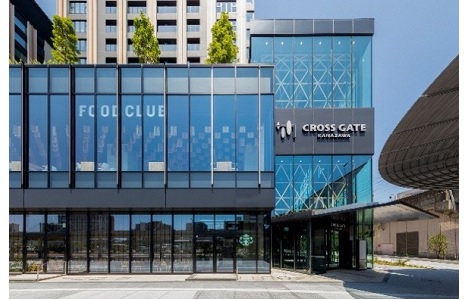 1. About LEED Certification
LEED certification was developed by the U.S. Green Building Council in 1998, and is managed by Green Business Certification Inc. It is the world's most widely recognized environmental performance rating system. LEED certification evaluates the environmental performance of green buildings and eco-friendly land use from a variety of different perspectives. There are five LEED categories—Building Design and Construction (BD+C), Interior Design and Construction (ID+C), Building Operations and Maintenance (O+M), Neighborhood Development (ND), and Homes—and, based on the number of points achieved, a project earns one of four LEED rating levels: Platinum, Gold, Silver, or Certified.
As of July 31, 2020, more than 86,000 projects around the world have received LEED certification; in Japan, however, the number of certified projects stands around 150. Although few large-scale projects in Japan are LEED-certified, in recent years acquisition has become more widespread among a variety of buildings. As a result, LEED certification is establishing itself as a standard form of environmental certification.
* Source: "LEED Certification System," Green Building Japan (https://www.gbj.or.jp/leed/ratingsysytems/

).
The above is an overview of LEED v4 which, as of September 7, 2020, is the latest version of LEED. CROSS GATE KANAZAWA applied for and received LEED certification when LEED v2009 was current; for this reason, some category names and parts of the rating system differ. LEED v2009's LEED NC is equivalent to LEED v4's LEED BD+C.
2. Overview of CROSS GATE KANAZAWA
CROSS GATE KANAZAWA is a mixed-use facility located to the west of JR Kanazawa Station; it is constructed on land acquired and developed by ORIX under the open tender for Kanazawa City's international brand hotel project in April 2016. Comprising two hotels—Hyatt Centric Kanazawa and Hyatt House Kanazawa—the condominium The Residence Kanazawa, and commercial facilities, the facility celebrated its grand opening on August 1, 2020.
CROSS GATE KANAZAWA is centered on two hotel brands managed by the internationally renowned Hyatt Hotels Corporation, which is making its first foray into the Hokuriku region, and seeks to provide a space for visitors from Japan and overseas to interact. The commercial area is home to a total of 31 stores, including new businesses and stores new to the Hokuriku region, while the third floor rooftop garden, Mirai-no-oka, provides all-comers with a place to rest.
Contact Information:
ORIX Corporation
Corporate Planning Department
Tel: +81-3-3435-3121
About ORIX:
ORIX Corporation (TSE: 8591; NYSE: IX) is a financial services group which provides innovative products and services to its customers by constantly pursuing new businesses.
Established in 1964, from its start in the leasing business, ORIX has advanced into neighboring fields and at present has expanded into lending, investment, life insurance, banking, asset management, automobile related, real estate and environment and energy related businesses. Since entering Hong Kong in 1971, ORIX has spread its businesses globally by establishing locations in 37 countries and regions across the world.
Going forward, ORIX intends to utilize its strengths and expertise, which generate new value, to establish an independent ORIX business model that continues to evolve perpetually. In this way, ORIX will engage in business activities that instill vitality in its companies and workforce, and thereby contribute to society. For more details, please visit our website: https://www.orix.co.jp/grp/en/
(As of March 31, 2020)
Caution Concerning Forward Looking Statements:
These documents May contain forward-looking statements about expected future events and financial results that involve risks and uncertainties. Such statements are based on our current expectations and are subject to uncertainties and risks that could cause actual results that differ materially from those described in the forward-looking statements. Factors that could cause such a difference include, but are not limited to, those described under "Risk Factors" in the Company's annual report on Form 20-F filed with the United States Securities and Exchange Commission and under "(4) Risk Factors" of the "1. Summary of Consolidated Financial Results" of the "Consolidated Financial Results April 1, 2019 – March 31, 2020."