News Release
CROSS GATE KANAZAWA, a Mixed-use Development Project at Kanazawa Station West Exit, Set to Open on August 1, 2020
TOKYO, Japan - Jun 5, 2020 - ORIX Corporation ("ORIX") announced that CROSS GATE KANAZAWA, a mixed-use facility under development at the West Exit of JR Kanazawa Station, will open fully on August 1, 2020.
CROSS GATE KANAZAWA is a mixed-use facility that comprises the Hyatt Centric Kanazawa and Hyatt House Kanazawa hotels, the condominium The Residence Kanazawa, and a commercial area home to a wide range of stores. The facility will be a gateway to Kanazawa, which seeks to become a hub of international exchange; it is intended to create excitement and new values, to allow locals and visitors to interact, and to enable people, experiences, and goods to intersect.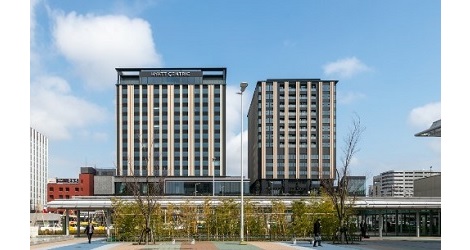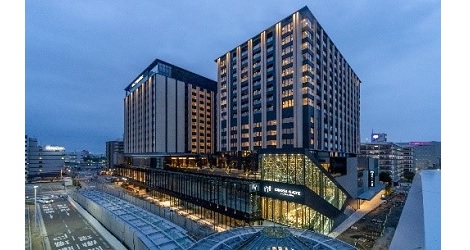 Situated on the lower floors, the commercial area boasts a retail space covering approximately 3,124 square meters and is based on the concept of "premium foods and restaurants that are from Kanazawa or new to Kanazawa." CROSS GATE LOUNGE, which features an eat-in space, is located on the first floor, while a variety of events are scheduled to take place on the third-floor rooftop garden, Mirai-no-oka.
CROSS GATE KANAZAWA comprises two towers: a 14-story tower and a 15-story tower. The full-service lifestyle hotel Hyatt Centric Kanazawa occupies floors 1 to 14 of the 14-story tower, and offers seven suites among its 253 guestrooms. Its restaurants provide high-quality cuisine made using Hokuriku-sourced ingredients, its rooftop bar has views spanning the entirety of Kanazawa City, and its four banquet halls can be combined for a variety of uses.
The extended stay hotel Hyatt House Kanazawa is located on floors 3 to 7 of the 15-story tower. It has a total of 92 guest rooms, some of which are equipped with kitchens, and is suited both for relaxing trips and for business use.
Hyatt Centric Kanazawa and Hyatt House Kanazawa have begun accepting reservations for accommodation from May 15.
* Opening dates are subject to change according to government policies and social conditions related to COVID-19.
1. Hotel Overview
(1) Hyatt Centric Kanazawa
Hyatt Centric Kanazawa features seven suites among a total of 253 guestrooms, a variety of restaurants, a rooftop bar, and banquet halls that can also be used for conferences. Optimally located for exploring the city, this lifestyle hotel enables guests to enjoy Kanazawa's cuisine, cutting-edge art, and other activities in the manner of their choosing.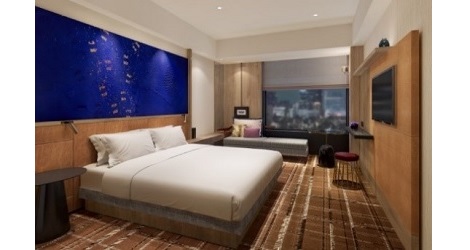 (2) Hyatt House Kanazawa
Hyatt House Kanazawa offers 92 guestrooms—including 20 suites—some of which are fitted with kitchen facilities, and provides guests with comfortable accommodation that can be used as a second home. The hotel is also equipped with a laundry room and is well-suited to medium to long-term trips and business use. Hokuriku is full of hidden charms that change with the seasons—Hyatt House Kanazawa is the ideal base for those wishing to take their time to discover what the region has to offer.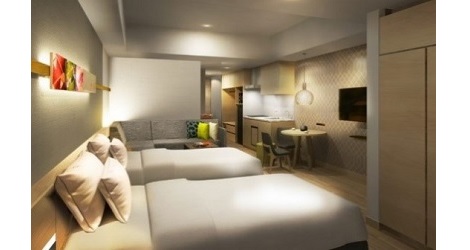 Reservations can be made via the official hotel websites and via telephone.
Hyatt Centric Kanazawa
Official website: hyattcentrickanazawa.jp


Telephone number for reservations: 076-256-1360
Hyatt House Kanazawa
Official website: hyatthousekanazawa.jp


Telephone number for reservations: 076-256-1460
2.Overview of Commercial Area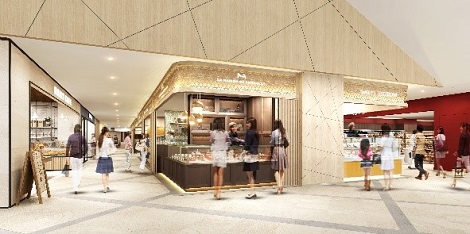 The commercial area is located on the first and second floors of the facility, and features a retail space covering approximately 3,124 square meters. The area is based on the concept of "premium foods and restaurants" and will be home to a total of 34 stores, including both local stores as well as stores and businesses new to Kanazawa. CROSS GATE LOUNGE, a communication lounge where visitors can eat the foods they have purchased, has been established on the first floor. Its vibrant artworks communicate the spirit of Kanazawa—Kutani ware, a traditional Kanazawa craft, decorates wall-mounted shelves, while the lighting is inspired by the ball-shaped handicrafts known as "Kaga temari"—and enables visitors to come into contact with the city's cuisine, culture, and art.
The design of the communal space on the second floor has been inspired by the Higashi Chaya District, one of Kanazawa's most popular tourist locations; the space's latticed walls take after the traditional local craft, "Kumiko zaiku," while its flooring resembles stone-paving. Visitors will be treated to a serene atmosphere that makes them feel as if they are walking through the Higashi Chaya District itself. The communal space is an area where locals can freely drop by, and where tourists can feel welcome.
Contact Information:
ORIX Corporation
Corporate Planning Department
Tel: +81-3-3435-3121
About ORIX:
ORIX Corporation (TSE: 8591; NYSE: IX) is a financial services group which provides innovative products and services to its customers by constantly pursuing new businesses.
Established in 1964, from its start in the leasing business, ORIX has advanced into neighboring fields and at present has expanded into lending, investment, life insurance, banking, asset management, automobile related, real estate and environment and energy related businesses. Since entering Hong Kong in 1971, ORIX has spread its businesses globally by establishing locations in 37 countries and regions across the world.
Going forward, ORIX intends to utilize its strengths and expertise, which generate new value, to establish an independent ORIX business model that continues to evolve perpetually. In this way, ORIX will engage in business activities that instill vitality in its companies and workforce, and thereby contribute to society. For more details, please visit our website: https://www.orix.co.jp/grp/en/
(As of March 31, 2020)
Caution Concerning Forward Looking Statements:
These documents May contain forward-looking statements about expected future events and financial results that involve risks and uncertainties. Such statements are based on our current expectations and are subject to uncertainties and risks that could cause actual results that differ materially from those described in the forward-looking statements. Factors that could cause such a difference include, but are not limited to, those described under "Risk Factors" in the Company's annual report on Form 20-F filed with the United States Securities and Exchange Commission and under "(4) Risk Factors" of the "1. Summary of Consolidated Financial Results" of the "Consolidated Financial Results April 1, 2019 – March 31, 2020."