News Release
A serviced office that caters to diverse work styles
Cross Office Hibiya to Open on March 16
~Direct connection to Kasumigaseki Station; providing business spaces that stimulate all five senses~
TOKYO, Japan - February 19, 2020 - ORIX Corporation ("ORIX") announced that it will open Cross Office Hibiya, the seventh base in its Cross Office serviced office business brand, on March 16, 2020.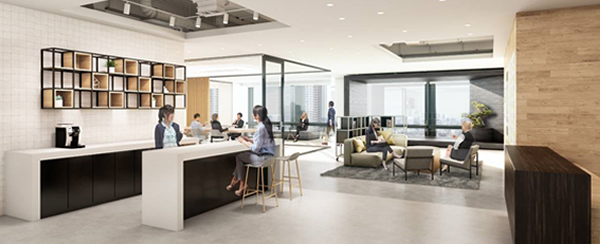 Cross Office Hibiya is directly connected to Kasumigaseki Station on the Tokyo Metro Marunouchi, Hibiya, and Chiyoda Lines, and three minutes' walk from Toranomon Station on the Tokyo Metro Ginza Line. The office prioritizes confidentiality and security—two qualities that are in high demand among users—and offers a variety of working spaces: 69 large and small private office rooms with seating from 1 to 25 people, booths that both encourage lively communication and cater to diverse work styles, and coworking space. Shared business functions include three conference rooms for the use of from 6 to 10 people, and receptionists capable of conversing in English. The office also boasts a triple-glazed premium conference room overlooking Hibiya Park.
Cross Office Hibiya is designed around the concept of "business wellbeing." By providing spaces and services that stimulate all five senses, the office helps activate the imagination and improve work efficiency. It features green art on the walls, bonsai tree displays, and music and scents designed to improve concentration and reduce stress. In order to help users refresh themselves, ORIX also plans to install an energy pod designed around ergonomics research indicating that naps of 20 minutes or so can enhance cognitive skills, concentration, imagination, and memory.
Going forward, ORIX will continue to cater to the diversifying needs of serviced offices, and provide offices that contribute both to new business opportunities and to value creation for its customers.
1. Concept: business wellbeing
Cross Office Hibiya is designed to contribute to the comfort, health, and happiness of its tenants. It provides spaces where users can take a break from their work activities, activating the imagination and improving work efficiency.
2. Location
Hibiya is an eco-friendly, sociable, and dynamic area known for its abundance of greenery—indeed, it is home to the Imperial Palace and to Hibiya Park, one of Tokyo's leading green spaces. With its commercial and office complexes, and its proximity to government agencies where Japan's central functions are concentrated, Hibiya is an area that balances both innovation and tradition.
3. Spaces and services that stimulate all five senses

(1) Sight: art and smart lighting
Cross Office Hibiya features green art on the walls of its coworking spaces; by enhancing exposure to natural green in the field of view of its tenants, the office contributes to reducing stress and alleviating tiredness. The office also uses smart lighting; in private booths, lighting can be selected to suit the motivations of its occupants—such as concentrating, reading, or relaxing. In the welcome lounge, the brightness and color of the lighting is adjusted as the day changes from morning to night, creating a comfortable atmosphere.
(2) Hearing: BGM design
Cross Office Hibiya plays music that encourages lively communications and relaxation in the welcome lounge and coworking spaces; in concentration areas, the music is designed to increase productivity. With BGM tailored to different spaces, tenants can expect to benefit from improved relaxation, rejuvenation, or concentration, depending on where they are.
(3) Touch: bonsai art
Masashi Hirao is a bonsai artist who combines Japanese traditions with an unconventional, innovative, and unique style. His bonsai works will be on display at various times of the year. Tenants will be encouraged not only to observe these works, but to adopt a more hands-on approach by watering them, and profit through "earthing.*" In addition, the bonsai will be displayed in places intended for relaxation and refreshment during work breaks, which will also function as communication hubs. Bonsai-related workshops are also scheduled to be held.
*"Earthing" requires touching the earth directly with one's bare hands or feet; static electricity that has accumulated in the body is released into the earth, while electrons are received in return, resulting in an electronic balance that contributes to improved health.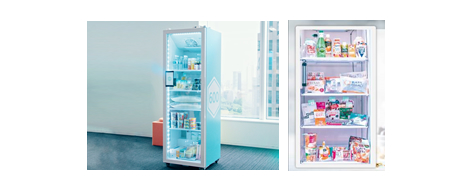 (4) Taste: unmanned convenience store for office
Cross Office Hibiya provides an unmanned office convenience store to maintain and improve tenant health and maximize their performance. It sells organic foods, functional foods, and other foods and drinks aimed at contributing bodily health.
(5) Smell: original aroma design
ORIX has collaborated with CODE Meee Inc., a venture company that aims to create a new smell-based society through the combination of scents and technologies, to ensure that each space within Cross Office Hibiya will have its own, specially designed scent. These scents are formulated according to brain wave-based emotion-sensing technologies*. Users of concentration booths will be able to choose from one of three scents—focus, relax, or energy—according to their mood, while scents in conference rooms will be designed to encourage lively discussions.
*Technology that enables visualization of users' sensitivity to scent by measuring brainwaves.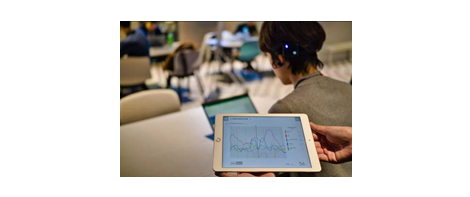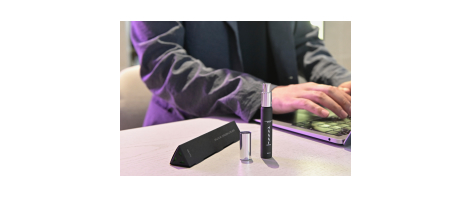 4. Other facilities・service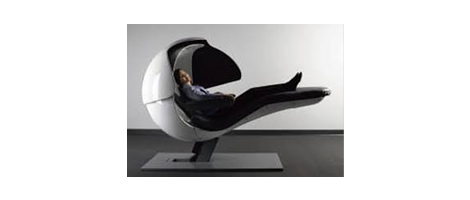 (1) Installation of energy pods
ORIX installs an energy pod designed around ergonomics research indicating that taking a 20-minute nap can enhance cognitive skills, concentration, imagination, and memory. The energy pod will offer a 20-minute sound-sleep program that facilitates falling asleep naturally and waking feeling refreshed, and so help reinvigorate tenants.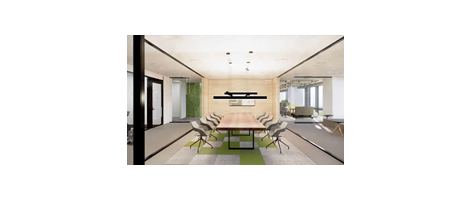 (2) A spacious and luxurious premium conference room
Cross Office Hibiya also features a spacious, triple-glazed premium conference room overlooking Hibiya Park. The conference room boasts a table made using a single large plank of camphor wood—a species of tree common in the park.
(3) Provision of document summary service
"flier," the document summary service, will be made available for the first time* as a service office. The service provides efficient access to the summarized content of topical business documents.
*Information provided by ORIX Corporation research
■ Overview of Cross Office Hibiya
Name
Cross Office Hibiya
Address
9F Iino Building, 2‐1‐1 Uchisaiwaicho, Chiyoda‐ku, Tokyo
Usable floor area
2,355.17 m2
Rental room types
(planned)
Private room, base type (11.3 m2–99.4 m2): 46 rooms, for 3 to 25 people
Private room, small type (3.2 m2–9.0 m2): 23 rooms, for 1 to 2 people
Booth, dedicated desk: 21 seats
Coworking space: approx. 80 seats


* Rental charges will be announced on the official website when confirmed

Open
24 hours a day, 365 days a year
Shared facilities
Coworking spaces, Conference rooms (6‐person room x2; 10‐person room x1): 3 rooms、Reception (open weekdays from 8:30 to 18:00), welcome lounge, office convenience store, energy pods, telephone booths, Wi-Fi, free drinks, multi-function printers, receipt of parcel deliveries
Access
Directly connected to Exit C4 of Kasumigaseki Station on the Tokyo Metro Marunouchi, Hibiya, and Chiyoda Lines
Approx. 3 minutes' walk from Exit 10 of Toranomon Station on the Tokyo Metro Ginza Line
Approx. 10 minutes' walk from Exit 4 of Sakuradamon Station on the Tokyo Metro Yurakucho Line
Approx. 10 minutes' walk from Shimbashi Station on the JR Yamanote Line, Keihin Tohoku Line, Tokaido Line, Yokosuka Line,Toei Subway Asakusa Line, and Yurikamome Line
Approx. 3 minutes' walk from Exit A7 of Uchisaiwaicho Station on the Toei Subway Mita Line
Phone number
Cross Office Information Center: 03-4582-1102 (open weekdays from 9:00 to 17:00)
URL
https://www.crossoffice.jp/hi
Contact Information:
ORIX Corporation
Corporate Planning Department
Tel: +81-3-3435-3121
About ORIX:
ORIX Corporation (TSE: 8591; NYSE: IX) is a financial services group which provides innovative products and services to its customers by constantly pursuing new businesses.
Established in 1964, from its start in the leasing business, ORIX has advanced into neighboring fields and at present has expanded into lending, investment, life insurance, banking, asset management, automobile related, real estate and environment and energy related businesses. Since entering Hong Kong in 1971, ORIX has spread its businesses globally by establishing locations in 37 countries and regions across the world.
Going forward, ORIX intends to utilize its strengths and expertise, which generate new value, to establish an independent ORIX business model that continues to evolve perpetually. In this way, ORIX will engage in business activities that instill vitality in its companies and workforce, and thereby contribute to society. For more details, please visit our website: https://www.orix.co.jp/grp/en/
(As of March 31, 2019)
Caution Concerning Forward Looking Statements:
These documents May contain forward-looking statements about expected future events and financial results that involve risks and uncertainties. Such statements are based on our current expectations and are subject to uncertainties and risks that could cause actual results that differ materially from those described in the forward-looking statements. Factors that could cause such a difference include, but are not limited to, those described under "Risk Factors" in the Company's annual report on Form 20-F filed with the United States Securities and Exchange Commission and under "(4) Risk Factors" of the "1. Summary of Consolidated Financial Results" of the "Consolidated Financial Results April 1, 2018 – March 31, 2019."