News Release
ORIX Completes Construction of Hasuda II Logistics Center
~Ideally located as a centralized base for deliveries to the East Japan region~
TOKYO, Japan - May 29, 2019 - ORIX Corporation ("ORIX") announced that it has completed construction of Hasuda II Logistics Center, the large-scale logistics facility it was developing in Hasuda City, Saitama Prefecture.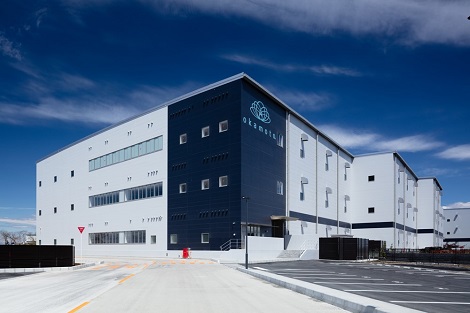 The facility is located just 10 minutes from two different expressways, and is ideally located for use as a centralized base for deliveries both in the Kanto and Tohoku regions. By using the Ken-O Expressway, deliveries can be made smoothly in the Kanto region while avoiding the crowded inner-city regions.
The facility is a three-story building with a total floor area of 26,090.20 square meters, and the first floor is equipped with driveways and truck berths*. The installation of emergency generators enables tenants to implement business continuity plans (BCP), while environmentally-friendly LED lighting is also employed. In addition, the facility features ample parking space for employee use (for 133 standard-sized vehicles), so facilitating employment for its tenant companies.
Okamoto Corporation, the legwear manufacturer, has been confirmed as the tenant for the entire facility. From July 2019, the company is planning to make the facility its primary base for delivering products to its stores in the East Japan region.
Going forward, ORIX will continue to identify optimal locations, promote new developments, and provide cutting-edge logistics facilities, so that it can cater to the demands of diverse tenant companies.


*Docking spaces for trucks to facilitate the loading and unloading of goods between trucks and the facility.
Facility Overview
Name
Hasuda II Logistics Center
Address
706, Negane, Hasuda-shi, Saitama Prefecture
Access
Approx. 5 km from the Kuki Interchange on the Tohoku Expressway;
Approx. 3.6 km from the Shiraoka-Shobu Interchange on the Ken-O Expressway, (Metropolitan Inter-City Expressway)
Approx. 20 minutes by bus to the Negane Bus Stop from Hasuda Station on the JR Tohoku Main Line, and approx. 3 minutes on foot from Negane Bus Stop
Design
Asai Ken Architectural Research Inc.
Construction
TOYO CONSTRUCTION CO., LTD.
Site area
22,222.16 m2
Total floor space
26,090.20 m2
Scale and structure
Three-story steel construction; fire-resistant construction
Other
Floor load - 1.5 t / m2; effective beam height - 5.5 m; parking space for 133 standard-sized cars
Completed
March 29, 2019
【The warehouse interior】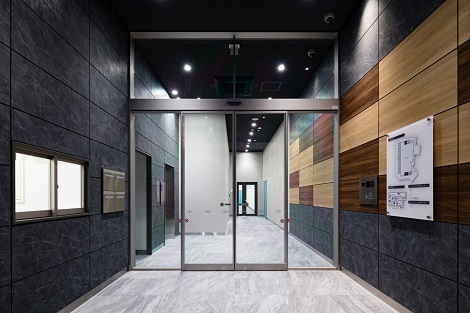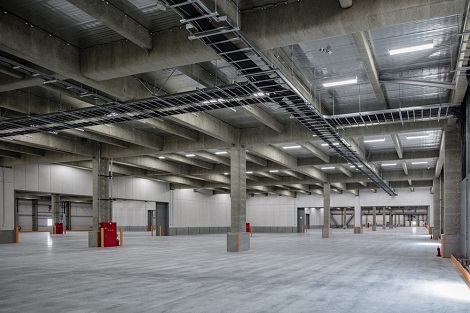 Contact Information:
ORIX Corporation
Corporate Planning Department
Tel: +81-3-3435-3121
About ORIX:
ORIX Corporation (TSE: 8591; NYSE: IX) is a financial services group which provides innovative products and services to its customers by constantly pursuing new businesses.
Established in 1964, from its start in the leasing business, ORIX has advanced into neighboring fields and at present has expanded into lending, investment, life insurance, banking, asset management, automobile related, real estate and environment and energy related businesses. Since entering Hong Kong in 1971, ORIX has spread its businesses globally by establishing locations in 37 countries and regions across the world.
Going forward, ORIX intends to utilize its strengths and expertise, which generate new value, to establish an independent ORIX business model that continues to evolve perpetually. In this way, ORIX will engage in business activities that instill vitality in its companies and workforce, and thereby contribute to society. For more details, please visit our website: https://www.orix.co.jp/grp/en/
(As of March 31, 2019)
Caution Concerning Forward-Looking Statements:
These documents May contain forward-looking statements about expected future events and financial results that involve risks and uncertainties. Such statements are based on our current expectations and are subject to uncertainties and risks that could cause actual results that differ materially from those described in the forward-looking statements. Factors that could cause such a difference include, but are not limited to, those described under "Risk Factors" in the Company's annual report on Form 20-F filed with the United States Securities and Exchange Commission and under "(4) Risk Factors" of the "1. Summary of Consolidated Financial Results" of the "Consolidated Financial Results April 1, 2018 – March 31, 2019."