News Release
J.D. Power Car Sharing Service Customer Satisfaction Study
ORIX Car Share is Ranked No.1 Overall for the Third Year in Succession
TOKYO, Japan – April 24, 2019 – ORIX Auto Corporation ("ORIX Auto") announced today that it was ranked No.1 for the third year in succession in the overall satisfaction category of the J.D. Power Japan, Inc. ("J.D. Power") "2019 Car Sharing Service Customer Satisfaction StudySM."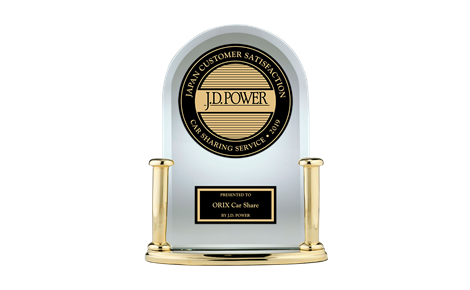 J.D. Power is an international organization that specializes in customer satisfaction studies and consulting. For more than 50 years, the company has carried out independent industrial benchmark studies related to product and service quality across the world, and provided solutions aimed at improving corporate customer satisfaction and performance.
"2019 Car Sharing Service Customer Satisfaction StudySM "asked 4,523 customers aged between 18 and 64 who had used a car sharing service within the past year about their usage scenarios and service satisfaction.
Of the five elements covered by the study—vehicles, reservations, fees, service menus, and call centers—ORIX Car Share ranked top in four of them—namely, vehicles, reservations, fees, and service menus.
Since ORIX Auto launched its car sharing business in 2002, it has established 1,790 stations, primarily in the Metropolitan, Kinki, Chubu, Tohoku, and Okinawa regions (As of March 31, 2019). Last year, the company moved to update its vehicles with new models featuring brake assist functions for added safety, and it also added rental site search and reservation functions to its ORIX Rent-A-Car smartphone app. In this way, ORIX Auto is working to ensure it provides a more comfortable and convenient service for its customers.
Going forward, ORIX Auto intends to further improve the convenience of its services, with the aim of increasing customer satisfaction.


Contact Information:
ORIX Corporation
Corporate Planning Department
Tel: +81-3-3435-3121
About ORIX:
ORIX Corporation (TSE: 8591; NYSE: IX) is a financial services group which provides innovative products and services to its customers by constantly pursuing new businesses.
Established in 1964, from its start in the leasing business, ORIX has advanced into neighboring fields and at present has expanded into lending, investment, life insurance, banking, asset management, automobile related, real estate and environment and energy related businesses. Since entering Hong Kong in 1971, ORIX has spread its businesses globally by establishing locations in 37 countries and regions across the world.
Going forward, ORIX intends to utilize its strengths and expertise, which generate new value, to establish an independent ORIX business model that continues to evolve perpetually. In this way, ORIX will engage in business activities that instill vitality in its companies and workforce, and thereby contribute to society. For more details, please visit our website: https://www.orix.co.jp/grp/en/
(As of March 31, 2019)
Caution Concerning Forward-Looking Statements:
These documents may contain forward-looking statements about expected future events and financial results that involve risks and uncertainties. Such statements are based on our current expectations and are subject to uncertainties and risks that could cause actual results that differ materially from those described in the forward-looking statements. Factors that could cause such a difference include, but are not limited to, those described under "Risk Factors" in the Company's annual report on Form 20-F filed with the United States Securities and Exchange Commission and under "(4) Risk Factors" of the "1. Summary of Consolidated Financial Results" of the "Consolidated Financial Results April 1, 2018 – March 31, 2019."