News Release
Free Robot Rental Service for Tenants of ORIX-developed Logistics Facilities
Two New Robots Now Available, Including Automated Transport Robots
TOKYO, Japan – April 12, 2019 – ORIX Corporation ("ORIX") and ORIX Rentec Corporation ("ORIX Rentec") announced that they have expanded the line-up of logistics robots that can be rented free of charge by tenants at logistics facilities developed by ORIX.
Two new robots will be made available: the Latent Mobile Robot, an automated transport robot manufactured by Hangzhou Hikvision Digital Technology Co., Ltd. ("HIKVISION"), and the CarriRo® AD (Autonomous Moving Model), a cart-type logistics support robot manufactured by ZMP Inc. ("ZMP").
Launched in May 2018, the free rental service enables tenants of ORIX logistics facilities to use logistics robots free of charge for six months. The service both allows tenants to verify the benefits of using robots and encourages them to promote warehouse automation. The addition of these two new robots caters to usage scenarios for which there was strong demand: moving palettes and display shelves and moving large amounts of cargo altogether. The line-up of robots available at ORIX logistics facilities now comprises 10 models from 9 manufacturers.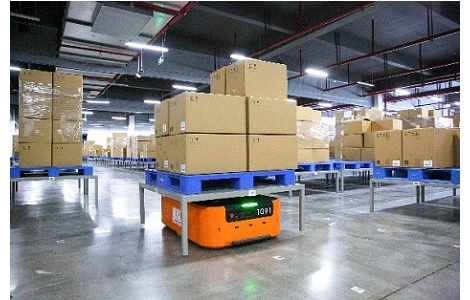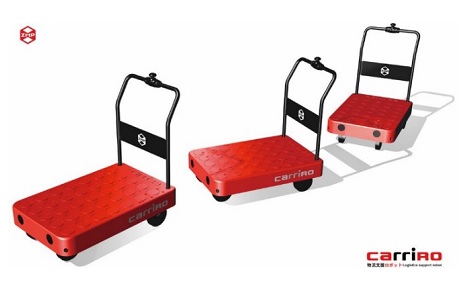 In recent years, there has been growing demand for large-scale and highly functional logistics facilities that can cater to continually evolving supply chains and the expanding e-commerce market. In addition, issues such as labor shortages due to a decreasing birthrate and an aging population as well as rising logistics costs have led to an increased need to improve productivity at logistics facilities. According to an opinion poll of logistics facility users*, the two most desirable technologies and functions are "automated guided vehicles and logistics robots" and "automation equipment." Moreover, as facilities begin to deteriorate with age, approximately 70 percent of companies are considering consolidating or reorganizing their logistics bases.
ORIX is engaged in the development of cutting-edge logistics facilities. At the same time, by providing a one-stop service that supports each tenant's needs—including proposing the use of suitable robots, carrying out benefit simulations, and assisting system establishment— ORIX and ORIX Rentec intend to generate new added value for ORIX's logistics businesses.
* "Tenant opinion poll regarding logistics facilities use 2019," conducted by CBRE.
■ Overview of the Latent Mobile Robot
The Latent Mobile Robot is suited to transporting cargo on palettes or display shelves. The robot is capable of maneuvering beneath a special-purpose display shelf, and lifting and transporting the shelf in its entirety; by reading the QR code that has been attached to each shelf, the robot is able to transport the shelf to the appropriate location. The Latent Mobile Robot is available in two models—with maximum loading capacities of 600 kg and 1,000 kg respectively—and can be expected to improve productivity by reducing both workloads and working hours. In addition, the HIKVISION robot operation management system can be linked with existing warehouse management systems; this enables information regarding warehouse storage, retrieval, and inventory conditions to be gathered in real time and shared with the robots, so enabling the robots to be used with greater efficiency.
Model
MR-Q3C-LE600C1(H)
MR-Q7C-LH1000C2(H)
Body weight
140kg
300kg
Outer dimensions
Width 65cm, depth 94cm, height 25cm
Width 81.9cm, depth 113.7cm, height 32.5cm
Maximum loading capacity
600kg
1,000kg
Maximum speed
(when fully loaded)
1.5m/s
1.2m/s
Operating time
8 hours (subject to change according to operating conditions)
■ Overview of the CarriRo® AD
The new CarriRo® AD takes the existing CarriRo® cart-type logistics support robot and adds autonomous moving functions. In addition to basic functions such as the "Karugamo mode" (following mode), in which the robot responds to beacons and automatically tracks and follows a human worker or other preceding CarriRo®, the new CarriRo® AD also includes an Autonomous Moving Mode. Routes can be established simply by attaching stickers at intervals of 10 meters or less, while robots can be told which routes to use via tablet terminals, enabling them to be used flexibly according to the prevailing work conditions. Moreover, since CarriRo® AD can be made to drag cargo through the use of hooks, prospective users can continue to use the same cargo equipment—existing facilities therefore do not have to be updated, so enabling easy implementation of the robots.
Body weight
55kg
Outer dimensions
Width 61cm, depth 91cm (96cm including the handle), height 24cm
Maximum loading capacity
150kg
Maximum speed
(when fully loaded)
6km/h (in drive mode or following mode), 3km/h (in autonomous moving mode)
Operating time
8 hours (subject to change according to operating conditions)
■ About Free Logistics Robot Rental Service
The free logistics robot rental service is jointly provided by ORIX, which has worked on developing logistics facilities since 2002, and ORIX Rentec, which launched its "RoboRen" robot rental service in 2016. Tenants can choose from among 10 models of robots from 9 manufacturers—primarily automated transport robots that support logistics operations—according to their individual usage scenarios, and can use the robots for six months free of charge; this includes any system development costs needed to deploy the robots. ORIX and ORIX Rentec also offer packages with information on effective use of tenant space, as well as detailed information on robot use and benefit simulations.
Target Facilities

| Facility Name | Nearest Interchange | Completion Date | Total Floor Space |
| --- | --- | --- | --- |
| Hasuda I Logistics Center | 5 km from Kuki IC | February 2018 | 34,753 m2 |
| Atsugi II Logistics Center | 3.1 km from Atsugi IC | July 2018 | 32,909 m2 |
| Hasuda II Logistics Center | 5 km from Kuki IC | March 2019 | 26,072 m2 |
| Matsubushi Logistics Center | 14 km from Misato-nishi IC | March 2019 | 77,372 m2 |
| Hirakata II Logistics Center | 4 km from Hirakata-higashi IC | January 2020(planned) | 57,311 m2 |
Target Equipment
Manufacturer
Item Name
Nidec-Shimpo Corporation
Target Guided Autonomous Transfer Robot
THOUZER
Sharp Corporation
Automatic Transport Robot
Smart AGV TYPE-A
Nidec-Shimpo Corporation
Automatic Transport Robot
S-CART 100
OMRON Corporation
Automatic Transport Robot
LD-90
INNOPHYS CO., LTD.
Power Assistance Suit
Muscle Suit® (Stand-alone type)
FANUC CORPORATION
Human Collaboration Robot
CR-35iA
Amano Corporation
Cleaning Robot
RcDC
Geek+ Inc.
AI-equipped Automatic Transport Robot
EVE
ZMP Inc.
Logistics Support Robot
CarriRo® AD *
Hangzhou Hikvision
Digital Technology Co., Ltd.
Automatic Transport Robot
Latent Mobile Robot *

Contact Information:
ORIX Corporation
Corporate Planning Department
Tel: +81-3-3435-3121
About ORIX:
ORIX Corporation (TSE: 8591; NYSE: IX) is a financial services group which provides innovative products and services to its customers by constantly pursuing new businesses.
Established in 1964, from its start in the leasing business, ORIX has advanced into neighboring fields and at present has expanded into lending, investment, life insurance, banking, asset management, automobile related, real estate and environment and energy related businesses. Since entering Hong Kong in 1971, ORIX has spread its businesses globally by establishing locations in 38 countries and regions across the world.
Going forward, ORIX intends to utilize its strengths and expertise, which generate new value, to establish an independent ORIX business model that continues to evolve perpetually. In this way, ORIX will engage in business activities that instill vitality in its companies and workforce, and thereby contribute to society. For more details, please visit our website: https://www.orix.co.jp/grp/en/
(As of September 30, 2018)
Caution Concerning Forward-Looking Statements:
These documents may contain forward-looking statements about expected future events and financial results that involve risks and uncertainties. Such statements are based on our current expectations and are subject to uncertainties and risks that could cause actual results that differ materially from those described in the forward-looking statements. Factors that could cause such a difference include, but are not limited to, those described under "Risk Factors" in the Company's annual report on Form 20-F filed with the United States Securities and Exchange Commission and under "(4) Risk Factors" of the "1. Summary of Consolidated Financial Results" of the "Consolidated Financial Results April 1, 2017 – March 31, 2018."