News Release
ORIX Real Estate Establishes a New Inn and Hotel Operating Business Brand: ORIX HOTELS & RESORTS
TOKYO, Japan – January 31, 2019 – ORIX Real Estate Corporation ("ORIX Real Estate") announced that it has established ORIX HOTELS & RESORTS ("OHR") as a new onsen hotel and hotel operating business brand. The new brand will subdivide 13 of the facilities that ORIX Real Estate operates in Japan into four categories, and propose optimal services suited to the needs of the customers who use them. A list of the facilities operated by the brand is available on the OHR website: https://www.orixhotelsandresorts.com

The new brand concept is: "A location to which customers wish to return." Of the 23 facilities operated by ORIX Real Estate in Japan, 13 will be facilities of a new brand target—this excludes facilities whose operation is outsourced to other companies. By incorporating unique ideas into hot springs, restaurants, and concierges, the new brand will improve the quality of its services, and its brand concept will be embodied.
The 13 facilities of OHR will be subdivided into the categories of: hot spring Ryokans, hot spring resorts hotel, city hotel, and parksides hotel. The brand will propose unique staying styles for each category and, at the same time, communicate the characteristics and appeal of each facility in a manner that is easy for customers to understand.
The ORIX Group launched its onsen hotel operating business in 2002, when it purchased the Suginoi-Hotel in Beppu City, Oita Prefecture (the hotel since been renamed the Beppu Suginoi-Hotel). The Group leveraged its financial know-how to improve the hotel's financial structure, and remodeled it into a buffet-style facility incorporating the regions attractions and an outdoor hot spring featuring the beautiful views, for example; and through such innovative ideas, the Group has continued to update the hotel. Based on the expertise and operational know-how it acquired through the management of Beppu Suginoi-Hotel, the Group has since acquired other onsen hotels and hotels, and developed new facilities.
Through the unification of facilities into the new OHR brand, ORIX Real Estate intends to improve customer service by sharing the know-how and knowledge possessed by each facility, and in doing so, is aiming for 13 facilities to become a destination its customers aspire to visit.
1. Overview of the ORIX HOTELS & RESORTS Brand
(1) Brand Concept
"A location to which customers wish to return"
ORIX HOTELS & RESORTS wishes to be a brand that caters to the diverse needs of its customers and even, at times, satisfies desires they did not know they had. We intend to establish our own, unique variety of hospitality that assimilates new ideas and reflects local environments and cultures. We believe that in this way we will be able to create locations to which our customers wish to return.
(2) Logo Mark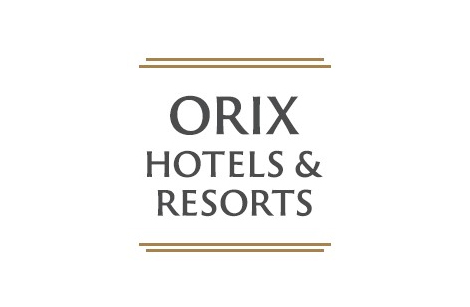 The brand logo unifies 13 unique facilities represents both quality and simplicity.
2. List of Accommodation Facilities
The brand operates a total of 13 hotels and onsen hotels across Japan, and ensures that they maintain close ties with local communities. Its facilities include the Beppu Suginoi-Hotel, which is situated on high ground in the Kankaiji Hot Spring region of Beppu Hatto—one of Japan's foremost hot springs regions; Hotel Banso, located in the Yunokawa Hot Spring resort, close to Hakodate Airport in Hakodate City, Hokkaido; ASHINOKO HANAORI, which is ensconced on the shores of Lake Ashinoko in Hakone; and the facilities that make up the original CROSS HOTEL hotel brand, which can be found in the leading Japanese tourist cities of Sapporo, Osaka, and Kyoto.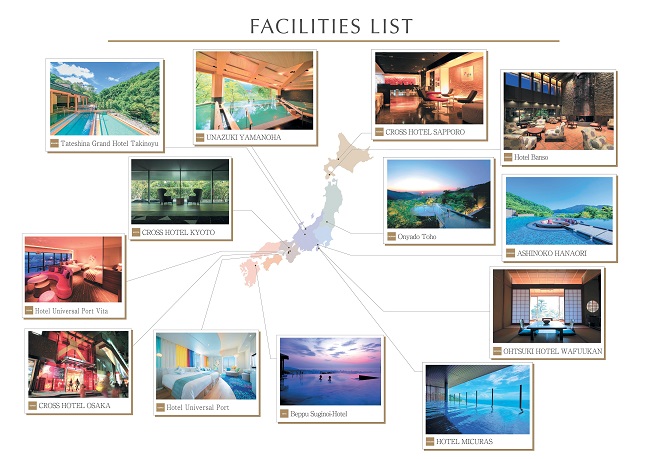 3. Overview of the Brand's Business Categories
ORIX HOTELS & RESORTS divides the facilities it operates into four different categories. Our aim is to become a brand that is capable of proposing destinations suited to a variety of different usage scenarios, depending for example on age, party size, and travel aims and styles. We intend to strengthen the physical aspects of our facilities by renewing or completely rebuilding existing facilities; at the same time, our goal is to develop each of our richly unique facilities to ensure that they provide customers with the ORIX HOTELS & RESORTS difference, and a unique experience that reflects the fundamental charms of the local environment.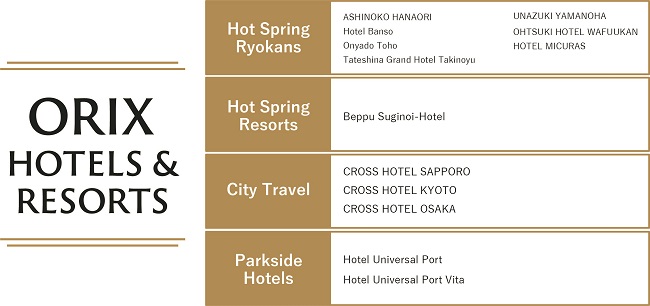 4. Campaign Overview
To commemorate the establishment of the new brand, between January 31 and March 31, 2019, we will run the "ORIX HOTELS & RESORTS BRAND Commemorative Launch Campaign: Relax, Play, Experience " guests can stay at an ORIX HOTELS & RESORTS operated facility. We are giving away 100 hotel vouchers for pairs, for a total of 200 guests, for one night's accommodation and two meals.
Application period
January 31 to March 31, 2019
*Hotel vouchers are valid between May 6, 2019, and February 28, 2020
Application method
Enter the required information on the application form on the official ORIX HOTELS & RESORTS website.
*Applications are limited to one application per person
Prize
The draw is for one of 100 hotel vouchers for pairs,
for a total of 200 guests, for one night's accommodation at one of the ORIX HOTELS & RESORTS brand's facilities.
Please visit the official website for further details.
Winner announcement
Notifications will be sent to winning applicants between the middle and end of April 2019.
Contact Information:
ORIX Corporation
Corporate Planning Department
Tel: +81-3-3435-3121
About ORIX:
ORIX Corporation (TSE: 8591; NYSE: IX) is an opportunistic, diversified, innovation‐driven global powerhouse with a proven track record of profitability. Established in 1964, ORIX at present operates a diverse portfolio of businesses in the operations, financial services, and investment spaces. ORIX's highly complementary business activities span industries including: energy, private equity, infrastructure, automotive, ship and aircraft, real estate and retail financial services. ORIX has also spread its business globally by establishing locations in a total of 38 countries and regions across the world. Through its business activities, ORIX has long been committed to corporate citizenship and environmental sustainability. For more details, please visit our website: https://www.orix.co.jp/grp/en/
(As of September 30, 2018)
Caution Concerning Forward-Looking Statements:
These documents may contain forward-looking statements about expected future events and financial results that involve risks and uncertainties. Such statements are based on our current expectations and are subject to uncertainties and risks that could cause actual results that differ materially from those described in the forward-looking statements. Factors that could cause such a difference include, but are not limited to, those described under "Risk Factors" in the Company's annual report on Form 20-F filed with the United States Securities and Exchange Commission and under "(4) Risk Factors" of the "1. Summary of Consolidated Financial Results" of the "Consolidated Financial Results April 1, 2017 – March 31, 2018."