News Release
Collaboration between "OKICA" Transportation IC Card and "d car share"
TOKYO, Japan – November 13, 2018 – Okinawa ICcard Co., Ltd. ("Okinawa IC"), NTT DOCOMO, INC. ("NTT DOCOMO") and ORIX Auto Corporation ("ORIX Auto") have announced that they are collaborating on the car share business and the IC card business. To promote the use of a new car share service that utilizes OKICA1 IC card, the "OKICA de d car share" program was launched on November 13, 2018.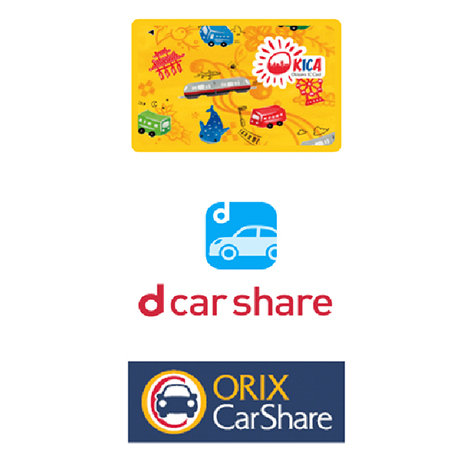 OKICA IC card issued by Okinawa IC, which is the only public transport IC card that can be used in Okinawa Prefecture, can now be used not only on the Okinawa Urban Monorail line and on major bus routes on Okinawa Island, but also with NTT DOCOMO's "d car share®" platform2 to make use of ORIX Car Share3 anywhere in Japan.

Through this tie-up, the participating companies are also promoting car share usage by using OKICA IC card numbers etc. By using OKICA IC card to support the integrated utilization of public transport and car sharing, the three companies are promoting the development of "smart travel" within Okinawa Prefecture, benefiting both local residents and people who visit Okinawa on holiday or on business.

In the future, besides opening additional car share stations in Okinawa Prefecture, ORIX Auto will also be collaborating with "Japan Transit Planner," an app provided by Jorudan Co., Ltd. to introduce a system that makes it possible to search for nearby ORIX Car Share stations from any Okinawa Urban Monorail station or bus stop where OKICA IC card can be used, and then reserve a car via d car share.


To mark this collaborative venture, an "OKICA de d car share Campaign" is being implemented over the period from Tuesday November 13, 2018 to Sunday March 31, 2019. During this period, all customers who register with the program by using their OKICA IC card as the "key" to unlock an ORIX Car Share car which has been booked via d car share will receive a free gift of a 1,000yen coupon4 that can be used with the d car share service. OKICA IC card registration5 can be performed using any ORIX Car Share car anywhere in Japan, 24 hours a day, 365 days a year.
Going forward, by combining their respective strengths, Okinawa IC, NTT DOCOMO and ORIX Auto will continue to proactively meet the needs of customers, the local community and society as a whole.
1 OKICA IC card is a public transport IC card that can be used for travel on the Okinawa Urban Monorail ("Yui Rail") line, or on bus routes on Okinawa Island operated by any of the following four companies: Ryukyu Bus Kotsu, Okinawa Bus, Naha Bus, and Toyo Bus (excluding scheduled tourist buses and limousine bus services).
2 d car share is a special service, with no basic monthly fee, that enables users to select and use vehicles provided by car share firms, car rental firms, and individual car owners. Every time a user makes a payment for car share using the d car share service, the user receives 1 "d point" for every 100 yen that they spend (tax excluded). Consumers do not need to have an account with NTT DOCOMO in order to be able to use d car share.
The d car share plan from ORIX Car Share costs 220 yen (tax incl.) for each 15 minutes, with no basic monthly fee, and will include discounted six-hour and late-night packages. To allow even first-time car sharing customers to use the service worry-free, supplemental coverage will also be provided.
3 ORIX Car Share has 21 car share stations and 40 vehicles in Okinawa Prefecture (as of November 13, 2018).
4 These coupons can be redeemed when using ORIX Car Share through d car share.
The coupon should be received within 3–4 weeks of registration; the coupon has a validity period of 31 days, starting from the date on which it was sent to the user.
5 OKICA IC card registration can be performed when using an ORIX Car Share vehicle after registering with the d car share service.
* "d car share" is a registered trademark of NTT DOCOMO, INC.
Contact Information:
ORIX Corporation
Corporate Planning Department
Tel: +81-3-3435-3121
About ORIX:
ORIX Corporation (TSE: 8591; NYSE: IX) is an opportunistic, diversified, innovation-driven global powerhouse with a proven track record of profitability. Established in 1964, ORIX at present operates a diverse portfolio of businesses in the operations, financial services, and investment spaces. ORIX's highly complementary business activities span industries including: energy, private equity, infrastructure, automotive, ship and aircraft, real estate and retail financial services. ORIX has also spread its business globally by establishing locations in a total of 38 countries and regions across the world. Through its business activities, ORIX has long been committed to corporate citizenship and environmental sustainability. For more details, please visit our website: https://www.orix.co.jp/grp/en/
(As of March 31, 2018)
Caution Concerning Forward Looking Statements:
These documents may contain forward-looking statements about expected future events and financial results that involve risks and uncertainties. Such statements are based on our current expectations and are subject to uncertainties and risks that could cause actual results that differ materially from those described in the forward-looking statements. Factors that could cause such a difference include, but are not limited to, those described under "Risk Factors" in the Company's annual report on Form 20-F filed with the United States Securities and Exchange Commission and under "(4) Risk Factors" of the "1. Summary of Consolidated Financial Results" of the "Consolidated Financial Results April 1, 2017 – March 31, 2018."