News Release
Robot Rental Service "RoboRen" Begins Offering Rental of Human collaboration Robot "Sawyer"
TOKYO, Japan - September 5, 2018- ORIX Rentec Corporation ("ORIX Rentec") announced that it has launched a service allowing corporate clients to rent "Sawyer," a collaborative robot developed by US-based Rethink Robotics Inc., in cooperation with Sumitomo Heavy Industries, Ltd. This will be handled through RoboRen, ORIX Rentec's next-generation robot rental service.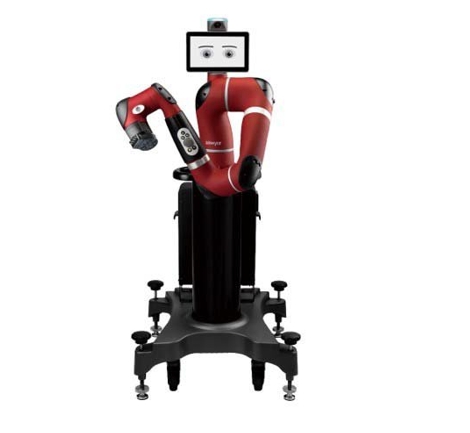 Sawyer" is a collaborative single-arm robot that can work alongside humans without needing to be enclosed by a safety fence. This robot is especially skilled at picking up and supplying parts and assembly, and is equipped with a highly responsive sensor that ensures it stops immediately for use when interacting with humans. Sawyer can learn tasks just by moving the arm, which means that no programming language or other specialized knowledge is necessary and even beginners can easily operate the robot.

A camera is installed in the robot's wrist, so Sawyer can identify the target and move to the right location, or pick up only the target items with the recorded shape. In addition, the pupil of the robot's "eye," shown on a small display equivalent to a person's face, is designed to always follow the robot's hand movements, so that people standing near the robot can intuitively guess Sawyer's next action. This robot is a good option for small and medium-sized companies in the manufacturing industry, such as auto manufacturers.

The need for automation provided by robots is growing as a means of addressing labor shortages and raising productivity, and demand for rentals is also increasing as it provides an opportunity to try out the robot.
The rental service includes basic operational training and telephone support services during the rental period to ensure a smooth introduction of the robot for customers. A six-month trial rental package for Sawyer and the Large Gripper Kit is offered at 301,000 yen (tax not included) per month. With the launch of this service, RoboRen's robot lineup includes 30 types of robots from 18 manufacturers.

Both companies plan to promote the use of robots going forward and bringing automation to various industries, thus helping to solve issues such as Japan's labor shortage and the need for higher productivity while contributing to the development of Japanese industry.

■ Overview of Sawyer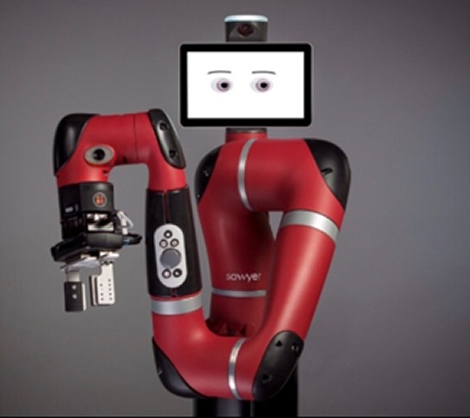 Product name: Sawyer
Size: About 62 cm in height, 14 cm in width, and 16 cm in depth
Weight: 19 kg
Arm mobility: 7
Maximum reach: 1,260 mm
Weight capacity: 4 kg (including hand)
Internal camera: wrist and head
Power source: AC adapter 100 V

■ORIX Rentec Overview
ORIX Rentec, Japan's first company to rent electronic measuring instruments, was established in 1976 and primarily rents high-tech equipment. In 2016, ORIX Rentec began RoboRen, its next-generation robot rental business, renting robots and providing technical support from its dedicated engineers. At "Tokyo Robot Lab." and "Tokyo Robot Lab.2" (Machida, Tokyo), permanent robot showrooms, ORIX Rentec gives customers the opportunity to experience how these actual robots function and their operability.

■Sumitomo Heavy Industries Group Overview
Sumitomo Heavy Industries is a general equipment manufacturer that covers general industrial equipment to cutting-edge precision equipment, as well as construction equipment, ships, and environmental and plant equipment. In 2015, Sumitomo Heavy Industries signed an exclusive distribution agreement for the collaborative robot "Sawyer," developed by Rethink Robotics, which was established by Rodney Brooks, a former director of MIT's Computer Science and Artificial Intelligence Laboratory and the founder of iRobot Corporation.
Sumitomo Heavy Industries Group website: http://www.shi.co.jp/english/index.html




Contact Information:
ORIX Corporation
Corporate Planning Department
Tel: +81-3-3435-3121

About ORIX:
ORIX Corporation (TSE: 8591; NYSE: IX) is an opportunistic, diversified, innovation‐driven global powerhouse with a proven track record of profitability. Established in 1964, ORIX at present operates a diverse portfolio of businesses in the operations, financial services, and investment spaces. ORIX's highly complementary business activities span industries including: energy, private equity, infrastructure, automotive, ship and aircraft, real estate and retail financial services. ORIX has also spread its business globally by establishing locations in a total of 38 countries and regions across the world. Through its business activities, ORIX has long been committed to corporate citizenship and environmental sustainability. For more details, please visit our website: https://www.orix.co.jp/grp/en/
(As of March 31, 2018)

Caution Concerning Forward Looking Statements:
These documents may contain forward-looking statements about expected future events and financial results that involve risks and uncertainties. Such statements are based on our current expectations and are subject to uncertainties and risks that could cause actual results that differ materially from those described in the forward-looking statements. Factors that could cause such a difference include, but are not limited to, those described under "Risk Factors" in the Company's annual report on Form 20-F filed with the United States Securities and Exchange Commission and under "(4) Risk Factors" of the "1. Summary of Consolidated Financial Results" of the "Consolidated Financial Results April 1, 2017 – March 31, 2018."