News Release
Robot Rental Service "RoboRen" Begins Offering Kibiro for Biz, a Reception and Customer Support Robot
TOKYO, Japan - September 5, 2018 - ORIX Rentec Corporation ("ORIX Rentec") and FRONTEO, Inc. ("FRONTEO") announced that they have launched a service that allows corporate clients to rent "Kibiro for Biz," a robot that provides reception and customer support. This will be handled through RoboRen, ORIX Rentec's next-generation robot rental service.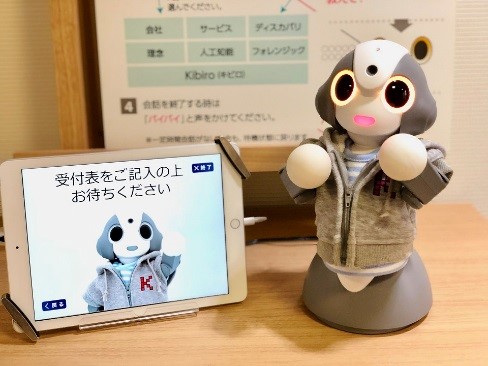 Kibiro for Biz is a communication robot equipped with customer interaction functions such as the ability to handle reception tasks and explain products. The robot is linked to a tablet and provides information to customers using voice and body movements. At present, Kibiro for Biz is used at the front desks of companies and clinics, financial institution offices and showrooms.

The robot itself is small and light, at 28.5 cm in height and about 800 g in weight. Moreover, the robot's speech and the content displayed on the tablet can be easily set and changed from the Web-based administrator screen, ensuring that it can be operated without inconveniencing those working on site.

With the start of this service, the ways in which Kibiro for Biz can be used has been increased even more to address requests that corporate clients examine the possibility of using the robot in a way that matches the working environment and the need to use it only for an exhibition or event. Accordingly, the robot is offered at a rental fee of 37,400 yen (tax not included) for a minimum of five days.
Both companies plan to promote the use of robots going forward and bringing automation to various industries, thus helping to solve issues such as Japan's labor shortage and the need for higher productivity while contributing to the development of Japanese industry.
<Participation in the 1st RoboDEX Nagoya >
ORIX Rentec will participate in the 1st RoboDEX Nagoya -Robot Development & Application EXPO Nagoya-, held from September 5 to 7, 2018 (sponsored by Reed Exhibitions Japan Ltd.). In addition to exhibiting Kibiro for Biz, ORIX Rentec plans to introduce its next-generation robot rental service RoboRen. (Booth number: 25-30) http://www.robodex-nagoya.jp/en/

■Overview of RoboRen's Kibiro for Biz rental package
RoboRen rents the tablet device needed to use Kibiro for Biz, in addition to the main Kibiro for Biz unit itself.


■ORIX Rentec Overview
ORIX Rentec, Japan's first company to rent electronic measuring instruments, was established in 1976 and primarily rents high-tech equipment. In 2016, ORIX Rentec began RoboRen, its next-generation robot rental business, renting robots and providing technical support from its dedicated engineers. At "Tokyo Robot Lab." and "Tokyo Robot Lab.2" (Machida, Tokyo), permanent robot showrooms, ORIX Rentec gives customers the opportunity to experience how these actual robots function and their operability.
■FRONTEO Overview
FRONTEO is a data analysis company that supports the analysis of information such as big data by using KIBIT, the artificial intelligence (AI) engine it has developed. FRONTEO was established in August 2003 as a company in the legal-tech business, providing e-discovery services for international legal cases and fraud investigations using digital forensics. KIBIT and the other AI technology developed by FRONTEO learn the implicit knowledge acquired by an expert due to experiences and instinct, and predict future actions based on analysis of human thinking. This AI technology is used in various fields, including healthcare and business intelligence, and has gained an impressive track record.
Contact Information:
ORIX Corporation
Corporate Planning Department
Tel: +81-3-3435-3121
About ORIX:
ORIX Corporation (TSE: 8591; NYSE: IX) is an opportunistic, diversified, innovation‐driven global powerhouse with a proven track record of profitability. Established in 1964, ORIX at present operates a diverse portfolio of businesses in the operations, financial services, and investment spaces. ORIX's highly complementary business activities span industries including: energy, private equity, infrastructure, automotive, ship and aircraft, real estate and retail financial services. ORIX has also spread its business globally by establishing locations in a total of 38 countries and regions across the world. Through its business activities, ORIX has long been committed to corporate citizenship and environmental sustainability. For more details, please visit our website:https://www.orix.co.jp/grp/en/
(As of March 31, 2018)
Caution Concerning Forward Looking Statements:
These documents may contain forward-looking statements about expected future events and financial results that involve risks and uncertainties. Such statements are based on our current expectations and are subject to uncertainties and risks that could cause actual results that differ materially from those described in the forward-looking statements. Factors that could cause such a difference include, but are not limited to, those described under "Risk Factors" in the Company's annual report on Form 20-F filed with the United States Securities and Exchange Commission and under "(4) Risk Factors" of the "1. Summary of Consolidated Financial Results" of the "Consolidated Financial Results April 1, 2017 – March 31, 2018."