News Release
ORIX Bank Introduces Industry's First AI-supported Real Estate Investment Cash Flow Simulator for Individuals
TOKYO, Japan – August 28, 2018 – ORIX Bank Corporation ("ORIX Bank"), announced today that on September 5, 2018, it will begin providing a cash flow simulator service utilizing artificial intelligence (AI) to enable users to calculate estimated cash flow from investment real estate. This is the first such service to be offered to customers in the banking industry.1
The simulation service uses a version of the Gate.2 investment real estate analytical tool developed by Leeways. Inc. , customized by ORIX Bank. After entering information about property they are considering investing in, along with their loan terms, customers are presented with an initial estimate3 of projected revenue fluctuations, including rents and vacancy rates, and operating expenses, including repair costs and other items, based on an AI-driven analysis of more than 58 million data items. The simple interface allows users to estimate cash flow from real estate investments for up to 50 years into the future.
The service makes it easy for customers to compare properties they are considering purchasing by providing numerous listings of properties from real estate companies ORIX Bank does business with.
In addition, the service makes it possible to utilize a wide range of market data about the location of the investment property, including statistics on demographics and commerce, market rents based on property data, and analytical reports on the surrounding area, including building ages.
By consolidating and offering a wide variety of information about real estate investments, and by making real estate loan repayment risks as visible as possible, ORIX Bank contributes to resolving customer uncertainties and other issues involving real estate investment.
ORIX Bank will continue working to provide attractive financial products and services and meet the diverse needs of its customers.
1 As of August 28, 2018, based on ORIX Bank research.
2 Gate. is an AI-supported investment real estate appraisal system based on a vast amount (58 million items) of real estate data.
3 Estimates of replacement costs and repair expenses for single-building ownership reflect the opinions of outside experts. Note: This service is for individual customers. Registration required (free of charge).
Cash Flow Simulation
・Customers can simulate their cash flow by registering information on property they are considering.
・Management, repair and other expenses are displayed automatically. After entering their loan terms, customers are presented with a future cash flow simulation in just one click.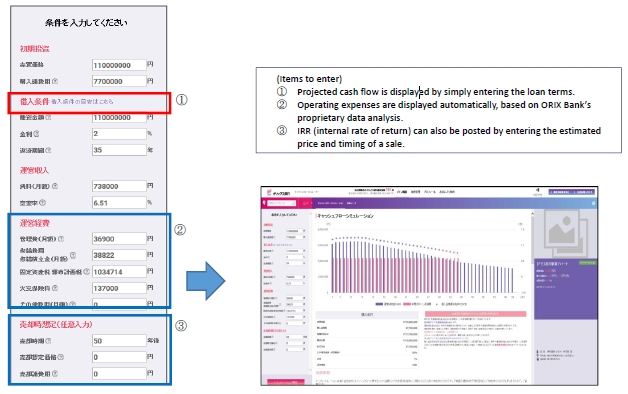 Main Screen
・Advertised properties registered on the site are automatically plotted and displayed.
・One click brings up a description of each property, and users can contact the properties directly.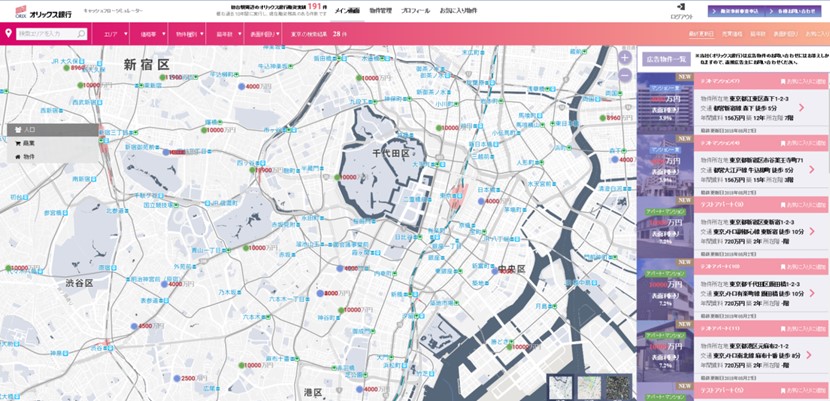 Analytical Data
・Customers can check properties they are considering on a positioning map, using a variety of conditions such as rents and building age.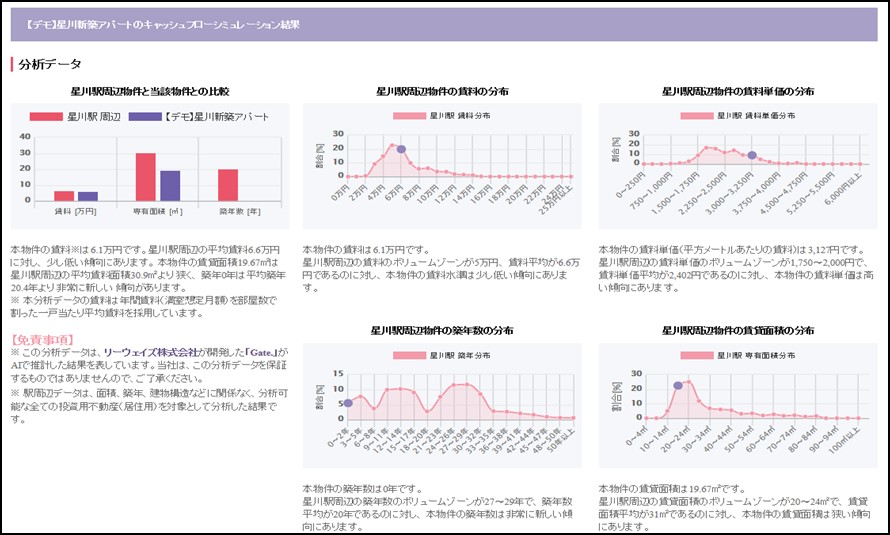 Statistical Data
・A variety of statistical data, including demographics and commerce, can be displayed in heat map format.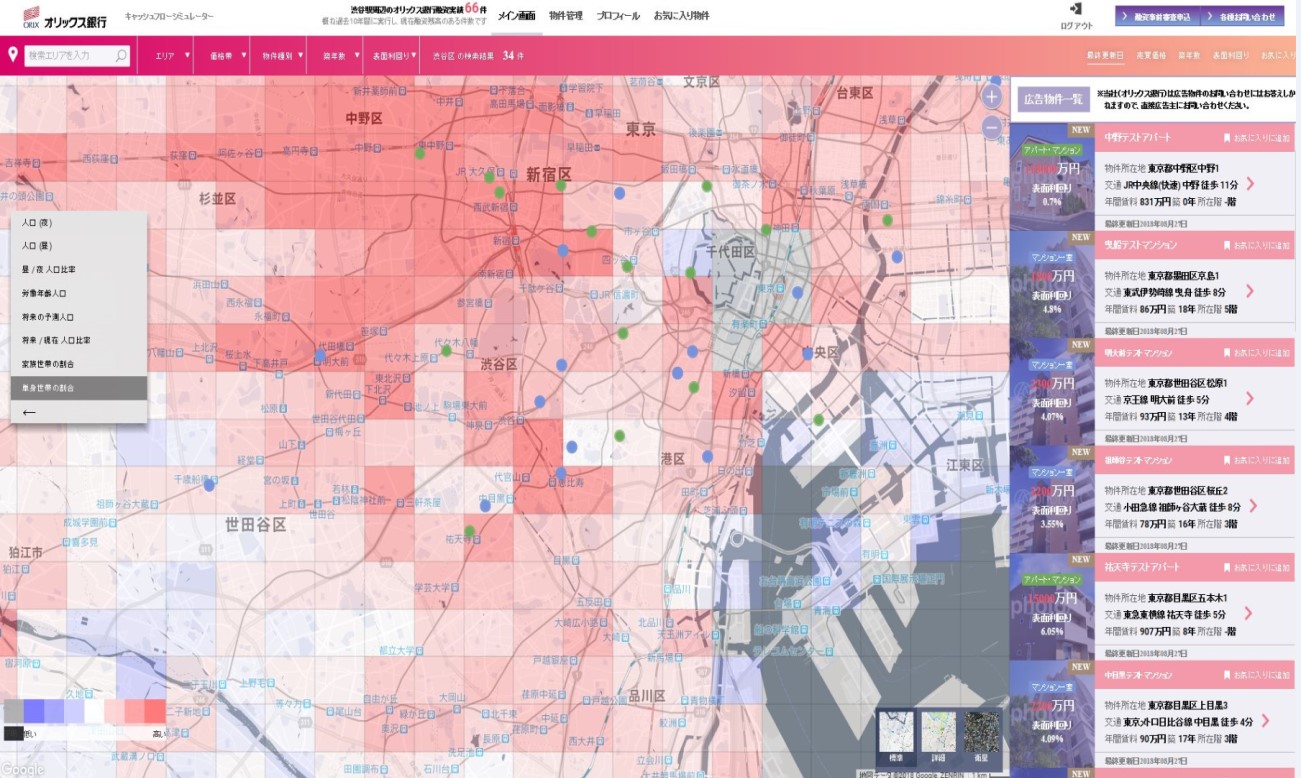 Contact Information
ORIX Corporation
Corporate Planning Department
Tel: +81-3-3435-3121
About ORIX:
ORIX Corporation (TSE: 8591; NYSE: IX) is an opportunistic, diversified, innovation-driven global powerhouse with a proven track record of profitability. Established in 1964, ORIX at present operates a diverse portfolio of businesses in the operations, financial services, and investment spaces. ORIX's highly complementary business activities span industries including: energy, private equity, infrastructure, automotive, ship and aircraft, real estate and retail financial services. ORIX has also spread its business globally by establishing locations in a total of 38 countries and regions across the world. Through its business activities, ORIX has long been committed to corporate citizenship and environmental sustainability. For more details, please visit our website:http://www.orix.co.jp/grp/en/
(As of March 31, 2018)
Caution Concerning Forward Looking Statements:
These documents may contain forward-looking statements about expected future events and financial results that involve risks and uncertainties. Such statements are based on our current expectations and are subject to uncertainties and risks that could cause actual results to differ materially from those described in the forward-looking statements. Factors that could cause such a difference include, but are not limited to, those described under "Risk Factors" in the Company's annual report on Form 20-F filed with the United States Securities and Exchange Commission and under "(4) Risk Factors" of the "1. Summary of Consolidated Financial Results" of the "Consolidated Financial Results April 1, 2017 - March 31, 2018."