News Release
ORIX Begins Rental Service for Platforms that are the Heart of EVs
TOKYO, Japan - August 14, 2018- ORIX Rentec Corporation ("ORIX Rentec") announced the start of a rental service for electric vehicle (EV) platforms (combinations of a chassis with power systems such as batteries and motors and vehicle control units) in cooperation with GLM Co., Ltd. ("GLM") beginning August 14, 2018.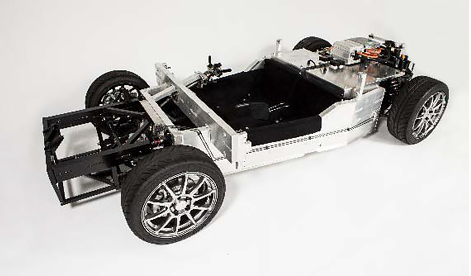 The platforms, which are the heart of a complete EV (the Tommykaira ZZ) developed in-house by GLM, can drive alone without exterior parts. For manufacturers developing parts, materials, and systems for EVs, fitting out these platforms with prototypes and conducting running tests would accelerate development speed and also reduce investment burdens by eliminating the need to develop test vehicles.
In addition, making use of the technologies accumulated by GLM as a complete car manufacturer as well as the knowhow it has cultivated through joint development with various companies, ORIX Rentec will also offer "customer support plans" that go from the identification of issues to the provision of solutions in customers' automobile development endeavors.
These days, automakers are actively developing and introducing EVs in response to the worldwide tightening of environmental regulations. The functions and performances required of EV parts are so different from parts for cars with conventional engines, that there is a need to adapt electronic parts and other various systems such as air conditioning to EVs.
Moreover, the technologies and materials that make up the main parts of EVs also differ greatly from those of conventional engine cars. Accordingly, new entry into the EV market from outside the industry is increasing, including new materials, chemicals, and IT companies as well as universities and research and development institutions. Development needs are increasing in a variety of fields—including batteries with a longer life and lower cost, new materials and components to reduce vehicle body weight, as well as high-tech sensors and cameras—and their development speed is also important.
In 2016, ORIX Rentec began offering its Test Car Solution rental service to support research and development of next-generation vehicles. Together with ORIX Auto Corporation, ORIX Rentec provides a one-stop rental service of various measuring instruments and vehicles suited to customers' needs. This new initiative strengthens ORIX Rentec's Test Car Solution service and will support technology development for next-generation cars, toward expansion of an EV market that is accelerating worldwide.
* December 26, 2016: Began providing Test Car Solution rental service to support self-driving tests (Japanese only) http://www.orixrentec.jp/file.jsp?id=5106

■ Service provision image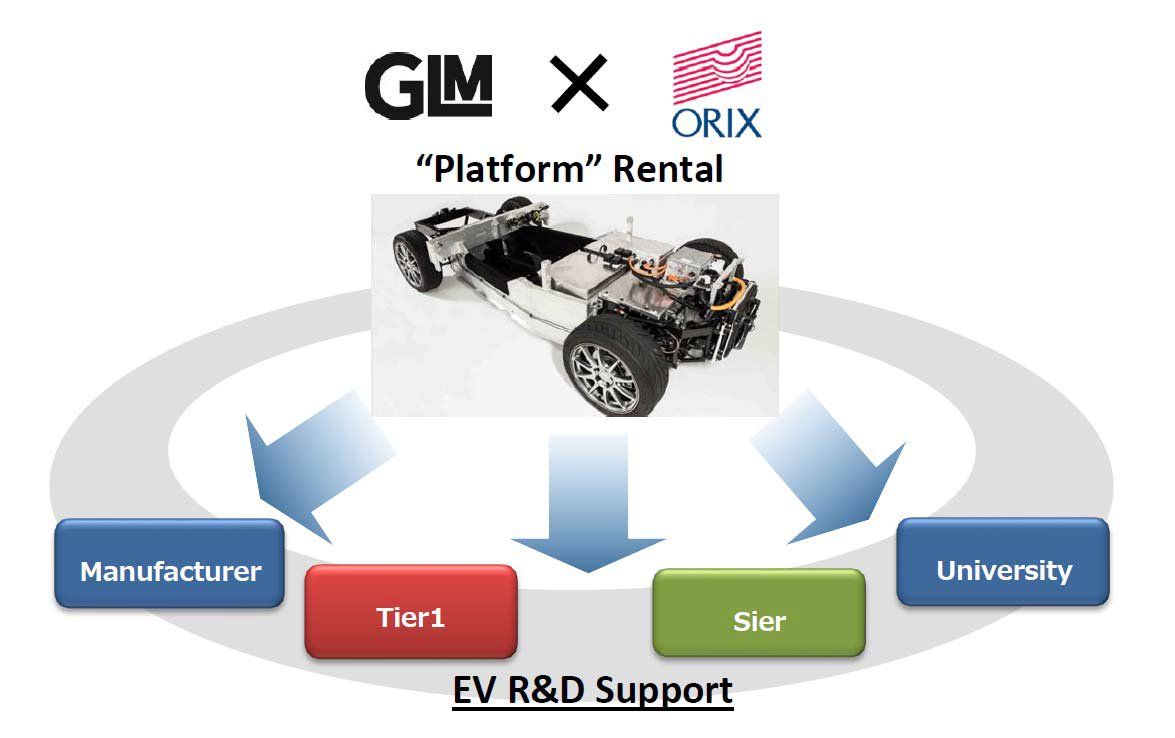 ■ GLM Company Overview
An EV manufacturer established in 2010 as a spinoff of Kyoto University's Kyoto Electric Car Project. In 2015, GLM succeeded in moving to mass production of the Tommykaira ZZ, Japan's first electric sports car. On one hand, GLM is a complete vehicle manufacturer that develops and sells EVs; on the other hand, GLM also uses its in-house developed platform, development knowhow, and partnerships in the auto industry to offer a platform business supporting other companies' automobile development.
GLM website: https://glm.jp/

■ Platform Overview
Platform used in GLM's Tommykaira ZZ
 • Standard charging time: Approximately 8 hours at 200 V (full charge)
  *Quick charging in about 30 minutes (up to 80% charge)
 • Power source: lithium-ion batteries
 • Two-seater four-wheel electric car
  *For driving only on privately owned property. Cannot be driven on public roads or in town areas (no license plate)
Contact Information:
ORIX Corporation
Corporate Planning Department
Tel: +81-3-3435-3121
About ORIX:
ORIX Corporation (TSE: 8591; NYSE: IX) is an opportunistic, diversified, innovation‐driven global powerhouse with a proven track record of profitability. Established in 1964, ORIX at present operates a diverse portfolio of businesses in the operations, financial services, and investment spaces. ORIX's highly complementary business activities span industries including: energy, private equity, infrastructure, automotive, ship and aircraft, real estate and retail financial services. ORIX has also spread its business globally by establishing locations in a total of 38 countries and regions across the world. Through its business activities, ORIX has long been committed to corporate citizenship and environmental sustainability. For more details, please visit our website: https://www.orix.co.jp/grp/en/
(As of March 31, 2018)
Caution Concerning Forward Looking Statements:
These documents may contain forward-looking statements about expected future events and financial results that involve risks and uncertainties. Such statements are based on our current expectations and are subject to uncertainties and risks that could cause actual results that differ materially from those described in the forward-looking statements. Factors that could cause such a difference include, but are not limited to, those described under "Risk Factors" in the Company's annual report on Form 20-F filed with the United States Securities and Exchange Commission and under "(4) Risk Factors" of the "1. Summary of Consolidated Financial Results" of the "Consolidated Financial Results April 1, 2017 – March 31, 2018."