News Release
ORIX to Develop the Multi-tenant type "Hirakata II Logistics Center" in Osaka Prefecture
TOKYO, Japan – July 31, 2018 – ORIX Corporation ("ORIX"), announced that it has decided to develop the Hirakata II Logistics Center in the city of Hirakata, Osaka Prefecture. Construction will begin in August 2018 with completion scheduled for January 2020, and ORIX has begun taking applications for tenant contracts.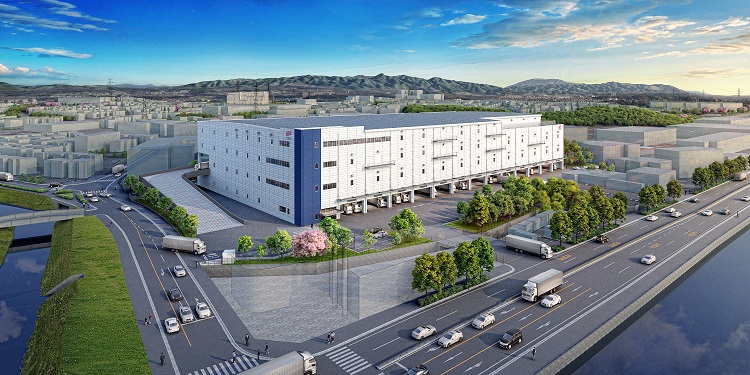 The Hirakata II Logistics Center is located within 30km of central Osaka, along National Route 1 which connects Osaka and Kyoto. About 4km from the Hirakata-higashi interchange on the Second Keihan Highway, and about 5km from the Yawata-Kyotanabe interchange of the Shin-Meishin Expressway, it allows for the selection of delivery routes according to traffic congestion conditions. It is also just a one-minute walk from the Kokudo-Shodai bus stop, making the location convenient to public transportation and advantageous for hiring part-time workers.
The building consists of four above-ground floors with a total floor area of approximately 56,860m2 in a multi-tenant type facility that can accommodate as many as four tenants, with leasing available from a minimum block size of approximately 1,3223m2. It is equipped with truck berths, standby space for up to nine 10-ton trucks, as well as a parking lot for up to 123 passenger vehicles. Emergency generators meet the needs of business continuity plans, and LED lighting employed throughout the building enables tenants to reduce their electricity usage.
To date, ORIX has developed four logistics centers in Osaka Prefecture, including the Hirakata Logistics Center located in Nagaotani-machi, Hirakata City and completed in July 2015. The planned opening of the Takatsuki segment of the Shin-Meishin Expressway is expected to improve the convenience of transport to Kobe, and ORIX will continue working to identify optimal locations for logistics facilities as it moves forward with new business development.
Facility Overview
Name
Hirakata II Logistics Center
Address
2-1208-11 Shodai-Otani, Hirakata, Osaka Prefecture (Main address)
Access
Approx. 4km from the Hirakata-higashi interchange on the Second Keihan Highway
Approx. 5km from the Yawata-Kyotanabe interchange on the Shin-Meishin Expressway
Design Firm
Asai Ken Architectural Research Inc.
General Contractor
Maeda Corporation
Site Area
26,587.83m2
Total Floor Space
57,311.50m2
Start of Construction
August 2018 (planned)
Expected Completion
January 2020 (planned)
Contact Information:
ORIX Corporation
Corporate Planning Department
Tel: +81-3-3435-3121
About ORIX:
ORIX Corporation (TSE: 8591; NYSE: IX) is an opportunistic, diversified, innovation-driven global powerhouse with a proven track record of profitability. Established in 1964, ORIX at present operates a diverse portfolio of businesses in the operations, financial services, and investment spaces. ORIX's highly complementary business activities span industries including: energy, private equity, infrastructure, automotive, ship and aircraft, real estate and retail financial services. ORIX has also spread its business globally by establishing locations in a total of 38 countries and regions across the world. Through its business activities, ORIX has long been committed to corporate citizenship and environmental sustainability. For more details, please visit our website: https://www.orix.co.jp/grp/en/
(As of March 31, 2018)
Caution Concerning Forward Looking Statements:
These documents may contain forward-looking statements about expected future events and financial results that involve risks and uncertainties. Such statements are based on our current expectations and are subject to uncertainties and risks that could cause actual results to differ materially from those described in the forward-looking statements. Factors that could cause such a difference include, but are not limited to, those described under "Risk Factors" in the Company's annual report on Form 20-F filed with the United States Securities and Exchange Commission and under "(4) Risk Factors" of the "1. Summary of Consolidated Financial Results" of the "Consolidated Financial Results April 1, 2017 - March 31, 2018."