News Release
Memorandum Signed for "Experience Nature around Daisetsu Partnership"
TOKYO, Japan - July 13, 2018- ORIX Auto Corporation ("ORIX Auto"), together with Asahiyama Zoo, Furano Nature Academy, the National Taisetsu Youth Friendship Center, Lake Shikaribetsu Nature Center, Donkoro Outdoor School, and Daisetsuzan Nature School, announced that the seven companies and organizations have signed an agreement related to the "Experience Nature around Daisetsu Partnership" aimed at promoting regional tourism.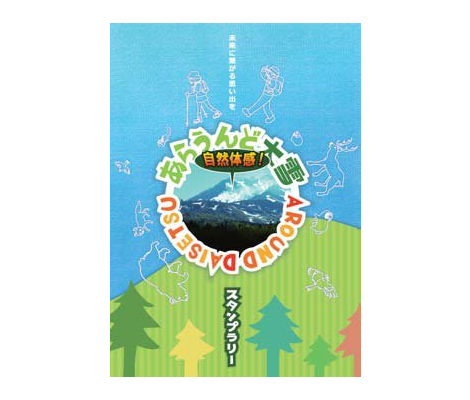 The goal of the Experience Nature around Daisetsu Partnership is to convey the beauty of nature, and work together to build a future in which humans and nature can coexist in harmony. This will be achieved through hands-on activities related to the natural environment and educational activities on the links between nature, food, and culture in the broader area surrounding the Daisetsuzan Volcanic Group of mountains in Hokkaido.

The seven members will work to centralize information on activities and events offered by their organizations and facilities, as well as enhancing publicity efforts by using their websites and social media, and jointly planning events such as stamp collection campaigns. They also plan to offer package deals, such as packages combining the rental of eco-friendly vehicles at ORIX Rent-A-Car with use of the facilities.


In the future, the members of the partnership will work together while enlisting the support of other facilities and organizations in order to share the appeal of Hokkaido's natural beauty, food, and culture.
Details on the Seven Members of the "Experience Nature around Daisetsu Partnership"
(1) Asahiyama Zoo
(Headquarters: Asahikawa City, Hokkaido; Director: Gen Bando)
Chances to enjoy lively encounters with animals make this the most popular zoo in Hokkaido. The zoo is home to 730 animals from 137 species, including the ever-popular penguins and polar bears.
http://www.city.asahikawa.hokkaido.jp/asahiyamazoo/


(2) Furano Nature Academy
(Headquarters: Furano City, Hokkaido; President: Kaoru Yamatani)
This facility, supervised by the writer So Kuramoto, runs a natural restoration project to reforest the former site of a golf course and an environmental education project using that same land. Hands-on programs allow participants to experience Hokkaido's wilderness with all five senses, and employ dramatic impressions and stunts using theatrical techniques that make it fun to learn about the global environment.
http://furano-shizenjuku.com/


(3) National Daisetsu Youth Friendship Center
(Headquarters: Kamikawa District, Hokkaido; Director: Toru Watanabe)
This center was opened by the Ministry of Education, Science and Culture (now the Ministry of Education, Culture, Sports, Science and Technology) in 1966 as Japan's fourth national youth center. Staff members support activities to aid in the healthy development of young people who will lead the next generation.
https://taisetsu.niye.go.jp/


(4) Lake Shikaribetsu Nature Center
(Headquarters: Kato District, Hokkaido; President: Masahiko Sakamoto)
This nature guide center is located on the shore of Lake Shikaribetsu in the eastern part of Daisetsuzan National Park. It offers many different ways to explore the depths of nature, like canoeing, walking tours, and zip-lining, to help enrich travelers' experiences.
http://www.nature-center.jp/



(5) Donkoro Outdoor School
(Headquarters: Minamifurano Town, Sorachi District, Hokkaido; Director: Yoshishige Meguro)
This nonprofit organization, certified by Hokkaido Prefecture in 2013, offers activities to enjoy the great outdoors, from mountains and lakes to rivers and forests. Children with little outdoor experience are fully supported by the guides.
http://donkoro.com/en/

(6) Daisetsuzan Nature School
(Headquarters: Higashikawa Town, Kamikawa District, Hokkaido; Representative: Kazuhiro Arai)
This organization offers guided eco-tours of the Daisetsuzan area, fitness programs in Kitoushi Forest Park, and training courses for nature guides. It also accepts university practicum students, trainees, and interns. For elementary students, it runs hands-on nature programs and camps during long school vacations.
http://daisetsu.or.jp/daisetsuzanns/


(7) ORIX Auto Corporation
(Headquarters: Minato-ku, Tokyo; President: Katsunobu Kamei)
With twenty-five locations in Hokkaido, ORIX Rent-A-Car strives to provide prompt service so that customers can comfortably use safe and eco-friendly cars for their travels.
https://car.orix.co.jp/eng/


Contact Information:
ORIX Corporation
Corporate Planning Department
Tel: +81-3-3435-3121
About ORIX:
ORIX Corporation (TSE: 8591; NYSE: IX) is an opportunistic, diversified, innovation‐driven global powerhouse with a proven track record of profitability. Established in 1964, ORIX at present operates a diverse portfolio of businesses in the operations, financial services, and investment spaces. ORIX's highly complementary business activities span industries including: energy, private equity, infrastructure, automotive, ship and aircraft, real estate and retail financial services. ORIX has also spread its business globally by establishing locations in a total of 38 countries and regions across the world. Through its business activities, ORIX has long been committed to corporate citizenship and environmental sustainability. For more details, please visit our website: https://www.orix.co.jp/grp/en/
(As of March 31, 2018)
Caution Concerning Forward Looking Statements:
These documents may contain forward-looking statements about expected future events and financial results that involve risks and uncertainties. Such statements are based on our current expectations and are subject to uncertainties and risks that could cause actual results that differ materially from those described in the forward-looking statements. Factors that could cause such a difference include, but are not limited to, those described under "Risk Factors" in the Company's annual report on Form 20-F filed with the United States Securities and Exchange Commission and under "(4) Risk Factors" of the "1. Summary of Consolidated Financial Results" of the "Consolidated Financial Results April 1, 2017 – March 31, 2018."