News Release
Mega-Solar Power Plant with Maximum Output of 55.6 MW Starts Operation in Yotsugoya, Nishi-ku, Niigata City
TOKYO, Japan - July 2, 2018 - ORIX Corporation ("ORIX") announced that the Niigata Yotsugoya Power Plant has started operation on July 2. The Niigata Yotsugoya Power Plant is a large-scale solar power plant (mega-solar power plant) with a maximum output of 55.6 MW (55,610 kW) that ORIX has been constructing in Yotsugoya of Niigata City's Nishi-ku. It has become the largest mega-solar power plant in Niigata Prefecture*1.
In developing the plant, ORIX improved nearby roads and installed security lighting and cameras in order to contribute to a safer and more secure community. ORIX also built an observatory space with a view of the plant in the aim of revitalizing local activity. ORIX will further contribute to the community by taking measures to create jobs, such as contracting out some of the plant's maintenance-related work to local businesses.
ORIX is presently engaged in the development and operation of solar power generation facilities with a total output of approximately 1000 MW. These are mega-solar projects using land with maximum output totaling 837 MW and rooftop solar power generation facilities with a maximum output totaling 159 MW (As of March 31, 2018). In addition to its solar power generation business, ORIX is actively developing its environment and energy business, which includes its power generation business for renewable energy sources such as geothermal heat and wood biomass, as well as energy service company (ESCO) and other energy conservation services, in order to continue creating new value for society.
■Niigata Yotsugoya Power Plant Overview
Location
500 Iwayama, Yotsugoya, Nishi-ku, Niigata City, Niigata Prefecture
Output Scale
(Module Capacity)
55,610 kW
Installation Area
Approximately 780,000 m2
Number of Installed Panels
205,964
Projected Annual Power Generation
(First Year of Operation)
60,549,212 kWh (planned)
Equivalent to the annual power consumption of approximately 16,800 households*2
Start of Operation
July 2, 2018
*1 Based on internal research as of July 2, 2018
*2 Calculation based on consumption of 3,600 kWh a year per household
Source: Federation of Electric Power Companies of Japan, "The Electric Power Situation in Japan"
■Niigata Yotsugoya Power Plant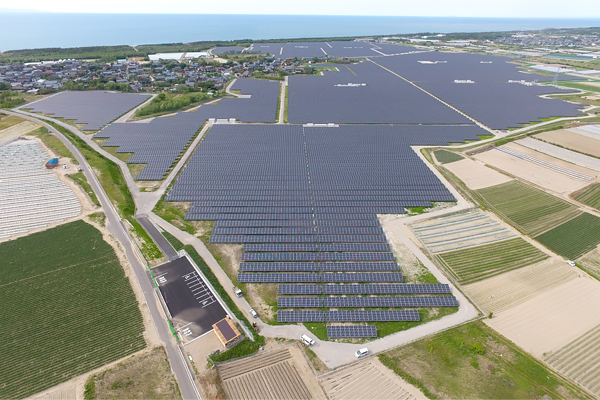 ■Outline of Measures to Contribute to the Community
1. Contribute to a safer and more secure community by improving roads around the power plant and installing security lighting and cameras.
2. Build an observatory space with a view of the solar power plant to revitalize local activities. Continuously support various community activities, such as by assisting in environmental improvements to community centers.
3. Create jobs, such as by cooperating with local businesses for maintenance-related work on the plant.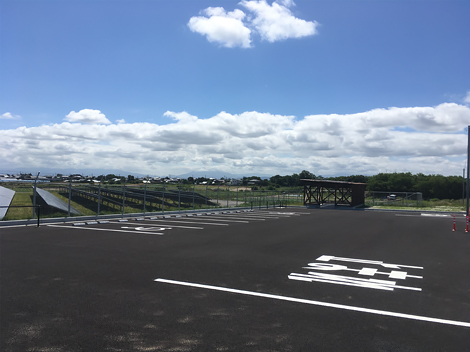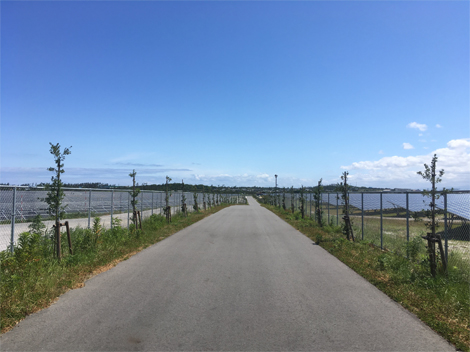 Contact Information:
ORIX Corporation
Corporate Planning Department
Tel: +81-3-3435-3121
About ORIX:
ORIX Corporation (TSE: 8591; NYSE: IX) is an opportunistic, diversified, innovation-driven global powerhouse with a proven track record of profitability. Established in 1964, ORIX at present operates a diverse portfolio of businesses in the operations, financial services, and investment spaces. ORIX's highly complementary business activities span industries including: energy, private equity, infrastructure, automotive, ship and aircraft, real estate and retail financial services. ORIX has also spread its business globally by establishing locations in a total of 38 countries and regions across the world. Through its business activities, ORIX has long been committed to corporate citizenship and environmental sustainability. For more details, please visit our website: https://www.orix.co.jp/grp/en/
(As of March 31, 2018)
Caution Concerning Forward Looking Statements:
These documents may contain forward-looking statements about expected future events and financial results that involve risks and uncertainties. Such statements are based on our current expectations and are subject to uncertainties and risks that could cause actual results that differ materially from those described in the forward-looking statements. Factors that could cause such a difference include, but are not limited to, those described under "Risk Factors" in the Company's annual report on Form 20-F filed with the United States Securities and Exchange Commission and under "(4) Risk Factors" of the "1. Summary of Consolidated Financial Results" of the "Consolidated Financial Results April 1, 2017 ? March 31, 2018."