News Release
Cross Hotel Kyoto scheduled to open in fall 2018. Accepting reservations from June 25
TOKYO, Japan – June 21, 2018 – ORIX Real Estate Corporation ("ORIX Real Estate"), announced that the Cross Hotel Kyoto will start accepting reservations on its official website from noon on Monday, June 25, 2018. Cross Hotel Kyoto is scheduled to open in fall 2018.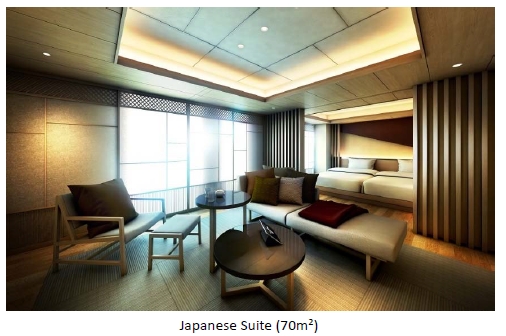 Cross Hotel Kyoto in Kawaramachi Sanjo, Kyoto, will be the third hotel of ORIX's Cross Hotel brand. All 301 guest rooms, including suites, average 30m2 floorspace. Cross Hotel Kyoto offers two suite types, Japanese Suite (70m2) that combine Japanese traditional style with modern function, and Premium Suite (76m2) that offer guests a magnificent view of Higashiyama Sanju-Roppo (36 mountain range) and the Gozan no Okuribi Ritual Fires (bonfire). Those rooms also offer amenities from British spa brand ila, which is offered for the first time in Japan. Cross Hotel offers both domestic and overseas visitors to the cultural heart of Japan comfort and convenience that makes their stay in Kyoto even more memorable.
Located on the 1st floor facing "Ryoma-dori" street, "Restaurant & Bar KIHARU BRASSERIE" features an impressive interior that evokes the history and tradition of Kyoto as a backdrop for cosmopolitan meals. Delicious breakfast, lunch and dinner menus ensure an excellent dining experience, and the bar menu is available all day.
Commemorative plans are also being offered to mark the opening of the hotel in fall 2018. We are looking forward to welcoming guests and enhancing their stay in Kyoto during the Year End/New Year's holidays and in early spring.
1. Facility Details
This hotel features 301 guestrooms, including suites. Average floorspace is 30m2, and each room has separate bath, toilet, and sinks. Many guestrooms are also equipped with sofa or stack beds to ensure a comfortable stay for families and friends.

2. First in Japan to offer hotel amenities by British spa brand ila
Cross Hotel Kyoto is the first in Japan to offer hotel amenities by British spa brand ila. Envelop yourself in the aroma of natural essential oils blended with Petitgrain, Lemongrass, Patchouli and Vetiver.
3. Restaurant & Bar KIHARU BRASSERIE
Open all day, KIHARU BRASSERIE offers breakfast, lunch, dinner and bar menus. This unique space has seating for 200 in themed areas, including an impressive Japanese umbrella ceiling in the bar area and high tables that create a comfortable atmosphere for casual or special scenes. The restaurant features a buffet-style breakfast with a wide variety of favorites, lunch that includes exclusive gourmet hamburgers and the popular KIHARU latte, and Spanish tapas-style menu for casual dinner.

4. Special Plans for Hotel Opening
◆Period Reservation Period: Noon on June 25 (Mon), 2018 – on March 15 (Fri), 2019
Period of Stay: October 1 (Mon), 2018 – March 31 (Sun), 2019
*Period of stay show above is the current plan. Plan may change due to opening schedule adjustments.
◆Special Plan: Upgrade Plan
Upgrading Standard Type to Superior Type free of charge  From ¥25,000
Upgrading Superior Type to Deluxe Type free of charge  From ¥30,000
◆ Special Plan: Special Prices – 10% discount from regular prices
Standard Type (25 – 27m2)  Regular Price From ¥25,000 → From ¥22,500
Superior Type (30m2)  Regular Price From ¥30,555 → From ¥27,500
Deluxe Type (28 – 47m2)  Regular Price From ¥41,666 → From ¥37,500
*Prices shown above include taxes and service fees. Prices do not include breakfast.
*Prices change depending on the day. Please confirm the price when making reservations.
*We have many plans featuring guestroom types. Check our official website for details.
*Kyoto Municipal Accommodation Tax Ordinance will be enacted October 1, 2018. We will charge accommodation tax separately from accommodation fees.
Reservation Desk
Official website: https://www.crosshotel.com/kyoto/en/


E-mail for reservations: reservation.kyoto@x-hotel.jp
*Reservations will be accepted from 10:00 am to 6:00 pm on weekdays until August 31 (Fri), 2018.Response to mail inquiries received after closed of business will be made as soon as possible on the next business day.

5. Facility Overview
Location
71-1 Daikoku-cho, Sanjo-sagaru, Kawaramachi-dori, Nakagyo-ku, Kyoto
Site Area & Total Floor Area
Site area: 2,176.28m2, Total floor area: 14,308.95m2
Building Structure
9 floors above ground
Guest Rooms
301 rooms
Dining & Drinking
1 restaurant with 200 seats
Access
4 min. walk from Keihan Railway Sanjo Station
7 min. walk from Hankyu Railway Kawaramachi Station
5 min. walk from Kyoto city Subway Kyoto Shiyakusyo-mae Station
URL
https://www.crosshotel.com/kyoto/en/
Contact Information:
ORIX Corporation
Corporate Planning Department
Tel: +81-3-3435-3121
About ORIX:
ORIX Corporation (TSE: 8591; NYSE: IX) is an opportunistic, diversified, innovation-driven global powerhouse with a proven track record of profitability. Established in 1964, ORIX at present operates a diverse portfolio of businesses in the operations, financial services, and investment spaces. ORIX's highly complementary business activities span industries including: energy, private equity, infrastructure, automotive, ship and aircraft, real estate and retail financial services. ORIX has also spread its business globally by establishing locations in a total of 38 countries and regions across the world. Through its business activities, ORIX has long been committed to corporate citizenship and environmental sustainability. For more details, please visit our website: https://www.orix.co.jp/grp/en/
(As of March 31, 2018)
Caution Concerning Forward Looking Statements:
These documents may contain forward-looking statements about expected future events and financial results that involve risks and uncertainties. Such statements are based on our current expectations and are subject to uncertainties and risks that could cause actual results that differ materially from those described in the forward-looking statements. Factors that could cause such a difference include, but are not limited to, those described under "Risk Factors" in the Company's annual report on Form 20-F filed with the United States Securities and Exchange Commission and under "(4) Risk Factors" of the "1. Summary of Consolidated Financial Results" of the "Consolidated Financial Results April 1, 2017 – March 31, 2018."