News Release
Japan's First Resort-type DoubleTree Hotel Opens in Okinawa―DoubleTree by Hilton Okinawa Chatan Resort Starts Operations on June 1
TOKYO, Japan – May 30, 2018 – ORIX Real Estate Corporation ("ORIX Real Estate") announced that the DoubleTree by Hilton Okinawa Chatan Resort had begun operations as of June 1, 2018.
ORIX Real Estate contracted Hilton to manage the hotel's operations, the same as with the Hilton Okinawa Chatan Resort, which opened in July 2014. The hotel is the third hotel in Japan under Hilton's DoubleTree by Hilton brand, and the first such branded hotel to operate as a resort hotel in Japan.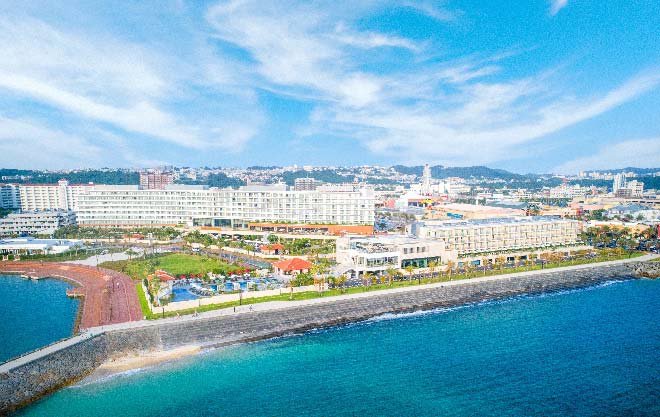 DoubleTree by Hilton Okinawa Chatan Resort is located in the Fisharina area of Mihama, Chatan-cho in Okinawa, about a 40-minute drive from Naha Airport, and is situated along a spectacular 270 degrees of oceanfront. The hotel's exterior features a jade green façade inspired by the ocean in Chatan, while the interior seamlessly connects with the expansive sea and sky awaiting outdoors. The hotel offers a total of 160 modern guest rooms and suites, many with a large terrace to enjoy the oceanfront views. The hotel offers a rooftop bar, and two outdoor pools allow guests of all ages to relax and enjoy themselves during their stay.
ORIX Real Estate operates the Cross Hotel brand of city hotels as well as resort hotels, serviced apartments, hot spring inns, seminar facilities, and other accommodations, with a combined total of approximately 5,500 guest rooms nationwide in Japan. We plan to open four more new facilities by 2020 comprising approximately 1,000 guest rooms.
We intend to use our experience and know-how gained through hotel and hot spring resort operations to offer accommodations that are the preferred lodging destination of guests.
1. Guest Rooms
Total of 160 rooms, most with an area of 30m2. Of these, 98 guest rooms (approximately 60%) have an ocean view. Family rooms of 40m2 are also available and cater to the needs of families with small children. Four luxuriously appointed suites (60m2) are located on the top floor of the hotel and have king-size beds.
The public spaces leading to guest rooms are designed with an ocean theme, with wallpaper, carpet, and other elements in a color scheme symbolizing sand, coral, and waves with sparkling accents. The spatial design creates an extraordinary resort atmosphere seamlessly incorporating the exquisite ocean views.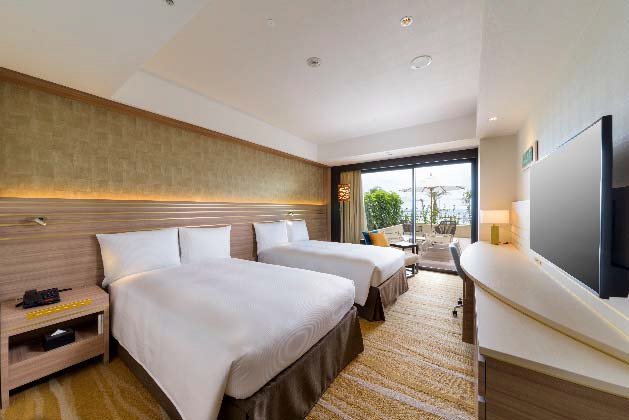 2. Facilities
The hotel offers a range of facilities for guests to enjoy during their stay.
43 West Rooftop Bar located on the third floor overlooks the ocean and gardens. Guests can leisurely enjoy the sunset while sipping one of the bar's signature cocktails. The second-floor restaurant MaTiira ("Room of the Sun") features table in a sunlit space modeled after an inner terrace. MaTiira serves buffet breakfasts and lunches as well as an à la carte dinner menu. The Fresh Connection café, conveniently located on the first floor, offers beverage and food takeout options.
The hotel offers two outdoor pools, a family pool with a children's slide and a relaxing adult's pool. In-house guests can also access the adjacent Hilton Okinawa Chatan Resort's two outdoor pools and an indoor pool and Amami Spa facilities for a wide range of leisure facilities to choose from, in addition to Okinawa's pristine waterfront.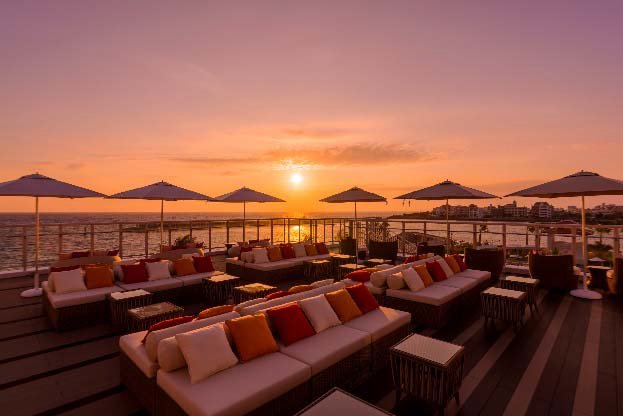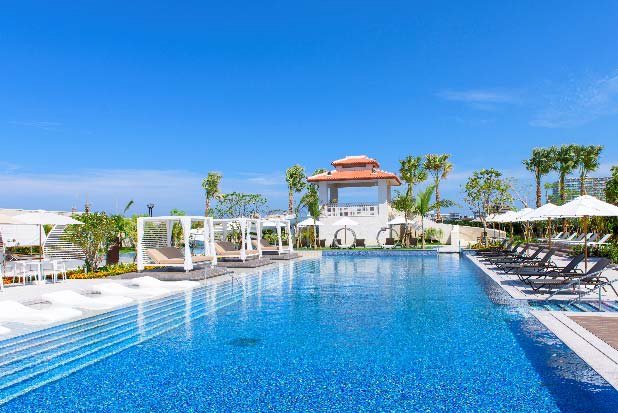 3. DoubleTree by Hilton Okinawa Chatan Resort Hotel Overview
Hotel name: DoubleTree by Hilton Okinawa Chatan Resort
Address: 43, 47 Mihama, Chatan-cho, Nakagami-gun, Okinawa prefecture, Japan
Access: Approx. 40 minutes by car from Naha Airport
Building size: 5 stories above ground
Number of rooms: 160
Hotel facilities: Two outdoor pools, one restaurant, rooftop bar, lobby lounge, takeout café
Design and construction: Obayashi Corporation
Design supervision: Jun Mitsui & Associates Inc. Architects
Operations management: Hilton
URL: http://www.doubletree.com

Contact Information:
ORIX Corporation
Corporate Planning Department
Tel: +81-3-3435-3121
About ORIX:
ORIX Corporation (TSE: 8591; NYSE: IX) is an opportunistic, diversified, innovation-driven global powerhouse with a proven track record of profitability. Established in 1964, ORIX at present operates a diverse portfolio of businesses in the operations, financial services, and investment spaces. ORIX's highly complementary business activities span industries including: energy, private equity, infrastructure, automotive, ship and aircraft, real estate and retail financial services. ORIX has also spread its business globally by establishing locations in a total of 38 countries and regions across the world. Through its business activities, ORIX has long been committed to corporate citizenship and environmental sustainability. For more details, please visit our website: https://www.orix.co.jp/grp/en/
(As of March 31, 2018)
Caution Concerning Forward Looking Statements:
These documents may contain forward-looking statements about expected future events and financial results that involve risks and uncertainties. Such statements are based on our current expectations and are subject to uncertainties and risks that could cause actual results to differ materially from those described in the forward-looking statements. Factors that could cause such a difference include, but are not limited to, those described under "Risk Factors" in the Company's annual report on Form 20-F filed with the United States Securities and Exchange Commission and under "(4) Risk Factors" of the "1.Summary of Consolidated Financial Results" of the "Consolidated Financial Results April 1, 2017 - March 31, 2018."