News Release
Location for Combination of Car-related Services to Open in Akita City
TOKYO, Japan – May 14, 2018 – ORIX Auto Corporation ("ORIX Auto") and Yamani Co., Ltd. ("Yamani") announced the establishment of a facility in Akita City, Akita Prefecture that will offer a combination of car-related support services, including used car sales, vehicle maintenance, automobile leasing and car rentals. From June 1 through June 10, a promotion to mark the grand opening will offer customers purchasing a used car from the Akita branch of ORIX U-car, located on site, a free drive recorder and other items.
The facility will bring together ORIX U-car Akita for used car sales, ORIX Rent a Car Akita Shin-Kokudo Rental Site, as well as an auto repair shop. It will also offer consultation on and processing of automobile leasing and auto insurance contracts. ORIX U-car Akita will have more than 100 ORIX Certified Used Cars*1 on hand at any time. The location will offer services tailored to the needs of a variety of customers, including those wishing to own a car and those using a car only when needed, via lease or rental.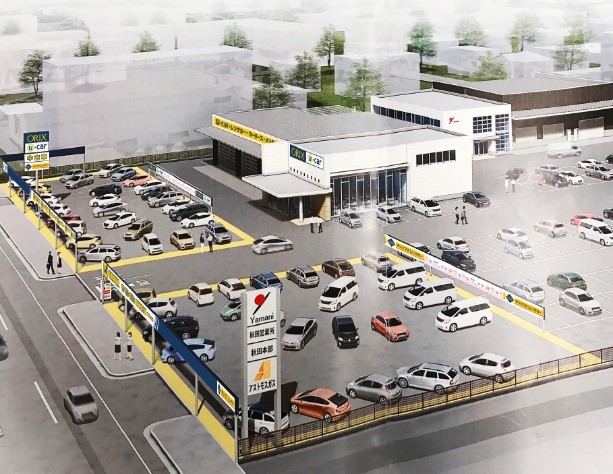 ORIX Auto provides a comprehensive range of car-related services, from auto leasing, rental cars and car sharing, to vehicle management. The number of vehicles under management is 1,347,000 (as of the end of March 2018), the largest in Japan. Founded in 1940, Yamani is involved in energy, the environment and automobile-related services, as well as food service and ral estate. In the automobile business, it has partnered with ORIX Auto since 1999, and in addition to offering auto leasing and used car sales, operates 10 ORIX Rent a Car locations throughout Akita Prefecture.

Going forward, Yamani and ORIX Auto will combine their respective strengths as they work to provide services that address a variety of car-related needs.

* 1 Cars in excellent condition previously used in leasing and car rental are carefully selected and sold as ORIX Certified Used Cars, and are offered through 10 retail locations nationwide, including Akita branch of ORIX U-car.

Contact Information:
ORIX Corporation
Corporate Planning Department
Tel: +81-3-3435-3121
About ORIX:
ORIX Corporation (TSE: 8591; NYSE: IX) is an opportunistic, diversified, innovation-driven global powerhouse with a proven track record of profitability. Established in 1964, ORIX at present operates a diverse portfolio of businesses in the operations, financial services, and investment spaces. ORIX's highly complementary business activities span industries including: energy, private equity, infrastructure, automotive, ship and aircraft, real estate and retail financial services. ORIX has also spread its business globally by establishing locations in a total of 38 countries and regions across the world. Through its business activities, ORIX has long been committed to corporate citizenship and environmental sustainability. For more details, please visit our website: https://www.orix.co.jp/grp/en/
(As of March 31, 2018)
Caution Concerning Forward Looking Statements:
These documents may contain forward-looking statements about expected future events and financial results that involve risks and uncertainties. Such statements are based on our current expectations and are subject to uncertainties and risks that could cause actual results that differ materially from those described in the forward-looking statements. Factors that could cause such a difference include, but are not limited to, those described under "Risk Factors" in the Company's annual report on Form 20-F filed with the United States Securities and Exchange Commission and under "(4) Risk Factors" of the "1. Summary of Consolidated Financial Results" of the "Consolidated Financial Results April 1, 2016 – March 31, 2017."