News Release
Private Nursing Homes GOOD TIME LIVING Saga-Hirosawa and GOOD TIME LIVING Saga-Arisugawa Both Scheduled to Open in Fall of 2016
TOKYO, Japan - July 20, 2016 - ORIX Living Corporation ("ORIX Living"), a subsidiary of ORIX Corporation, today announced that GOOD TIME LIVING Saga-Hirosawa and GOOD TIME LIVING Saga-Arisugawa are scheduled to open in the fall of 2016. These will be ORIX Living's first private nursing homes in Kyoto Prefecture, and will bring the total number of such facilities run by ORIX Living to 27, with a total of 2,260 rooms.
Both facilities are located in the Saga-Arashiyama area, one of Kyoto's most famous scenic spots, in a quiet residential neighborhood where a wealth of natural scenery and traditional streetscapes abound. Both are also located close to train stations that make access to transportation into the central part of Kyoto extremely convenient, with GOOD TIME LIVING Saga-Hirosawa near JR's Saga-Arashiyama Station, and GOOD TIME LIVING Saga-Arisugawa not far from the Keifuku Electric Railroad's Arisugawa Station. Each facility is being designed around a different concept, bringing to Kyoto homes for the elderly where everyone, from active seniors to those requiring a higher level of care, can continue to live with peace of mind.
GOOD TIME LIVING Saga-Hirosawa, with the aim to enable residents with dementia or those requiring nursing care to enjoy their daily lives with a sense of security, is currently undergoing application procedures to be certified as a provider of assistance with the activities of daily life specialized in nursing care by the city of Kyoto.. For those requiring skilled nursing, the facility offers a special care floor with dedicated staff on call around the clock, and equipped with fall prevention sensors and robotic assist devices, including special lifts that store in the wall, providing ease of transfer from bed to bathroom.
In addition to accommodations for those requiring nursing care, GOOD TIME LIVING Saga-Arisugawa offers an Annex with rooms for more active seniors, with a wide variety of room types ranging in size from 28 m2 to 42 m2. Supermarkets, drug stores and other retail facilities are located nearby. The facility is also designed to offer peace of mind to residents of the Annex, who, should they require nursing care in the future, can either move to one of the care rooms in the same building, or to GOOD TIME LIVING Saga-Hirosawa.
Looking ahead, ORIX Living will continue to offer support to residents and their families, creating a new lifestyle for the elderly and satisfying needs that have not been met by currently available services.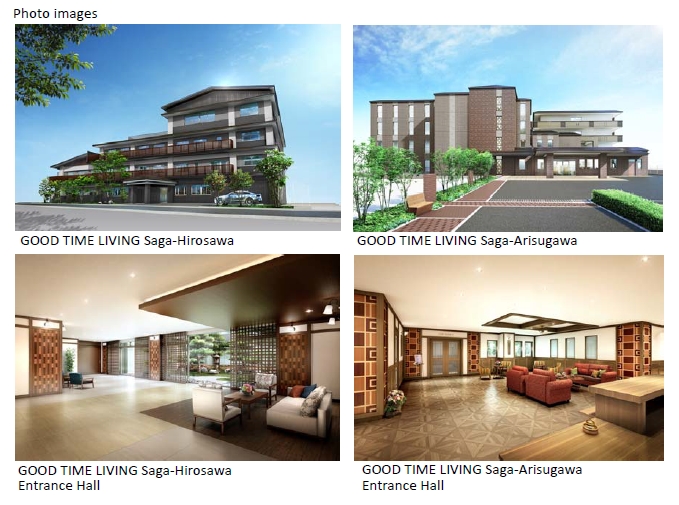 Contact Information:
ORIX Corporation
Corporate Planning Department
Tel: +81-3-3435-3121
About ORIX:
ORIX Corporation (TSE: 8591; NYSE: IX) is a financial services group which provides innovative products and services to its customers by constantly pursuing new businesses. Established in 1964, from its start in the leasing business, ORIX has advanced into neighboring fields and at present has expanded into the lending, investment, life insurance, banking, asset management, automobile-related, real estate and environment and energy-related businesses. Since its first overseas expansion into Hong Kong in 1971, ORIX has spread its business globally by establishing locations in a total of 37 countries and regions across the world. Moving forward, ORIX aims to contribute to society while continuing to capture new business opportunities. For more details, please visit our website: http://www.orix.co.jp/grp/en/
Caution Concerning Forward Looking Statements:
These documents may contain forward-looking statements about expected future events and financial results that involve risks and uncertainties. Such statements are based on our current expectations and are subject to uncertainties and risks that could cause actual results to differ materially from those described in the forward-looking statements. Factors that could cause such a difference include, but are not limited to, those described under "Risk Factors" in the Company's annual report on Form 20-F filed with the United States Securities and Exchange Commission and under "4. Risk Factors" of the "Summary of Consolidated Financial Results" of the "Consolidated Financial Results April 1, 2015 - March 31, 2016.