Home > News Releases > 2018 > ORIX Bank Begins Family Trust Support Service
September 25, 2018
ORIX Bank Begins Family Trust Support Service
TOKYO, Japan – September 25, 2018 – ORIX Bank Corporation ("ORIX Bank"), announced that on September 18, it began offering a "Family Trust Support Service" (the "Service"), designed to assist in the formation of civil trusts for families known as family trusts ("Kazoku-Shintaku")1. At the same time, ORIX Bank will also begin offering "e-Direct Deposit Accounts (with family trust deposit rider)", trust accounts2 specifically for family trusts.
| | |
| --- | --- |
| Family trusts are a system of civil trusts that enable individuals to prepare for a decline in competency due to dementia or other conditions, and the resulting loss of the ability to make their own decisions regarding property management and asset succession, by putting their assets in the care of trusted family members. Entering into a trust agreement between family members through a "trust for family, by family" not only allows for supervised asset management that protects the livelihood of the individual and their family, but makes it possible to ensure a smooth succession of assets in line with the individual's wishes. | |
In Japan, greater longevity has also brought about an "aging" of financial assets, as the proportion of personal assets held by the elderly continues to grow. At the same time, indications are that by 2025, one in five people aged 65 years and older will develop dementia3, and creating measures to maintain and manage an individual's property in the face of declining cognitive function has become a major issue.
The existing adult guardianship system provides a mechanism for managing an individual's property and protecting their livelihood, while the testamentary system for wills provides a mechanism for asset succession. The family trust has the advantages of these systems, while allowing for long-term, flexible property management and asset succession, and as a result has seen wide use in recent years.
The Service being offered by ORIX Bank makes dedicated staff available for in-person consulting at the ORIX Bank main branch in Minato-ku, Tokyo and at ORIX BANK GINZA PLAZA4, in Chuo-ku, Tokyo. In addition to offering advice on family trusts, which cover both cash and real estate assets, counselors also suggest plans tailored to the individual customer's needs, including comparisons between and combinations with family trusts and both the adult guardianship and testamentary systems.
ORIX Bank will continue working to create new products and services that lead to enhanced convenience for its customers.
1 Family trusts ("Kazoku-Shintaku") is a registered trademark of the Association for the Popularization of Family Trust in Japan.
2 A savings account designed to allow trustees of a family trust to manage the cash assets of the trust property separately from the savings that constitute their own deposit.
3 Source: Cabinet Office, Annual Report on the Aging Society: 2017
4 ORIX Bank's first consulting-type branch, opened in April 2018 in the GINZA SIX commercial facility.
■  Overview of Family Trusts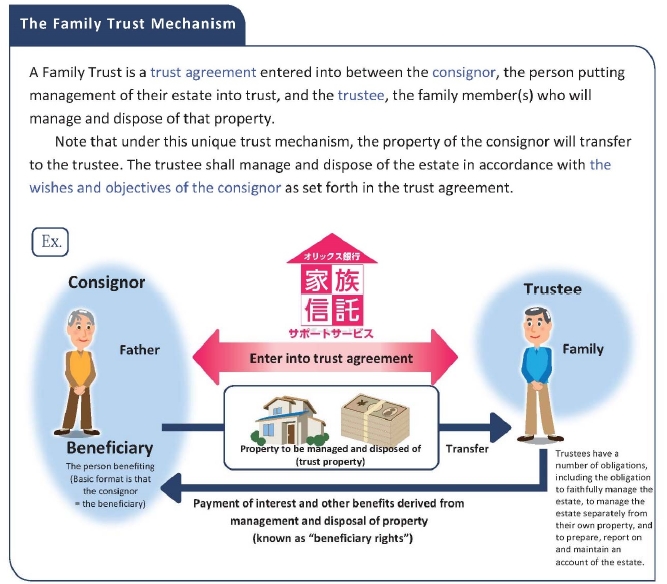 ■ Overview of the Family Trust Support Service
Eligible Customers
Individual customers who are able to visit either the ORIX Bank main branch or ORIX BANK GINZA PLAZA.
Description of Service
In addition to providing consulting regarding family trusts, the following services related to questions of property management and asset succession for customers and their families are also offered:

1. General advice regarding inheritance and asset succession
2. Proposals for and assistance in structuring schemes for property management and asset succession tailored to the customer's needs
Note: Counselors will offer comparisons between family trusts, the adult guardianship system, wills and other systems, as well as combinations of these, while proposing methods that best fit the customer's needs.
3. Other services associated with the above (ex. introductions to judicial scriveners)
Note: The Service shall not include services which ORIX Bank is prohibited from offering under the Banking Act and other related laws and regulations, or business in which it is not permitted to engage under related laws and regulations (including, but not limited to, the investment advisory business as stipulated by the Financial Instruments and Exchange Act, tax consulting as stipulated by the Certified Public Tax Accountant Act, and business stipulated by the Judicial Scriveners Act).
Anticipated Needs
1. Property management measures in preparation for a decline in competency due to dementia or other conditions
2. Post-inheritance asset succession measures
3. Measures for sharing of real estate assets among multiple individuals
Eligible Assets
Cash and real estate
Fees
・ Use of the above services entails payment of fees prescribed by ORIX Bank.
Note: Minimum fee of 500,000 yen (excl. tax), with the actual amount, taking into account the status of the customer's estate, to be presented prior to application.
・ Separate fees are required for work done by judicial scriveners and others.
■  Overview of e-Direct Deposit Accounts (with family trust deposit rider)
Features
This product is offered solely for online transactions.
Note: No cash cards, bank books or certificates will be issued.
Note: Transactions, account inquiries and other procedures are conducted via the internet.
Account Opening Procedure
1. The trustee shall prepare the documents listed below before visiting the ORIX Bank main branch or ORIX BANK GINZA PLAZA to complete the account opening procedure via the internet.
2. The customer card and temporary account password required to conduct online transactions will be sent to the trustee at a later date.
Required Documentation
・ Notarized copy of the trust agreement
・ Personal identification documents
・ Personal seal
・ My Number card or Notification card (optional)
Precautions
・ Opening a trust account with ORIX Bank is not a condition for applying for the ORIX Bank Family Trust Support Service.
・  Applications for new accounts undergo screening. Your application may be denied based on the results of that screening.
Contact Information:
ORIX Corporation
Corporate Planning Department
Tel: +81-3-3435-3121
About ORIX:
ORIX Corporation (TSE: 8591; NYSE: IX) is an opportunistic, diversified, innovation-driven global powerhouse with a proven track record of profitability. Established in 1964, ORIX at present operates a diverse portfolio of businesses in the operations, financial services, and investment spaces. ORIX's highly complementary business activities span industries including: energy, private equity, infrastructure, automotive, ship and aircraft, real estate and retail financial services. ORIX has also spread its business globally by establishing locations in a total of 38 countries and regions across the world. Through its business activities, ORIX has long been committed to corporate citizenship and environmental sustainability. For more details, please visit our website: https://www.orix.co.jp/grp/en/
(As of March 31, 2018)
Caution Concerning Forward Looking Statements:
These documents may contain forward-looking statements about expected future events and financial results that involve risks and uncertainties. Such statements are based on our current expectations and are subject to uncertainties and risks that could cause actual results to differ materially from those described in the forward-looking statements. Factors that could cause such a difference include, but are not limited to, those described under "Risk Factors" in the Company's annual report on Form 20-F filed with the United States Securities and Exchange Commission and under "(4) Risk Factors" of the "1. Summary of Consolidated Financial Results" of the "Consolidated Financial Results April 1, 2017 - March 31, 2018.
The files are in Adobe Acrobat Format. To view them you will need Acrobat Reader

version 5.0 or greater