Home > News Releases > 2018 > ORIX Auto to Begin Selling "Ever Drive" Monitoring Service Through Official Nissan Used Car Dealers
February 13, 2018
ORIX Auto to Begin Selling "Ever Drive" Monitoring Service Through Official Nissan Used Car Dealers
Tokyo, Japan - February 13, 2018 - ORIX Auto Corporation ("ORIX Auto"), a subsidiary of ORIX Corporation ("ORIX"), announced today that on February 13, 2018, it will begin offering its "Ever Drive" monitoring service through Nissan Motor Co., Ltd. official used car dealerships.
With progress in the development of safe driving technology in recent years, new vehicles are equipped with the latest safety features, while safety equipment on used cars can vary by model and by the age of the vehicle. To ensure a safe driving environment for all drivers regardless of vehicle safety equipment, and particularly to support safer driving by elderly drivers, sales staff at Nissan used car dealerships will begin offering the "Ever Drive" monitoring service from ORIX Auto.
| | |
| --- | --- |
| ORIX Auto began offering its "e-Telematics" service for corporate customers in 2006, and today it has been installed in about 150,000 vehicles. Utilizing that track record and expertise, in February 2017, ORIX Auto developed and began offering the "Ever Drive" monitoring service for individual users. The service has attracted considerable interest, not only from the offspring generation who wish to monitor their elderly parents' driving, but also from elderly drivers themselves, as well as from households with family members who may not be accustomed to driving.       |        |
By not only equipping vehicles with safety functions (systems), but also providing added services that encourage safe driving, the used car dealerships are building an environment that ensures their customers can enjoy peace of mind while on the road.
Through its lease, car rental and car sharing businesses, ORIX Auto has worked to enhance its highly value-added services from the perspective of compliance, the environment and safety. It will continue offering optimal solutions, both for its customers and for local communities as a whole.
(Supplementary Material: Overview of the "Ever Drive" monitoring service)
■ Key Functions
 Monitoring Function
 ・Email notification of hazardous driving behavior 
 ・Email notification of day-to-day status while on the road
 ・Email notification of arrival at destination 
 ・Current location verification
 Driving Reports
 ・Driving history by date       
 ・Monthly reports
 ・Mapping of hazardous driving locations 
 ・Driving history by destination
 Driver Support Services
 ・On-site emergency support (incurs a separate fee)
 ・24-hour health consultation by phone
 ・Cognitive health check (a simple test of cognitive function which is voluntary)
■ Usage Fees
2,980 yen/month (tax excluded)
(Based on a one-year contract, followed by automatic month-to-month renewal)
■ Sample Smartphone and PC Screens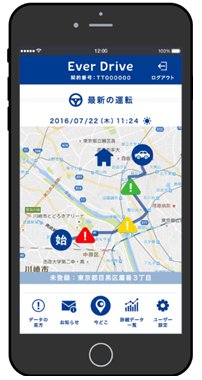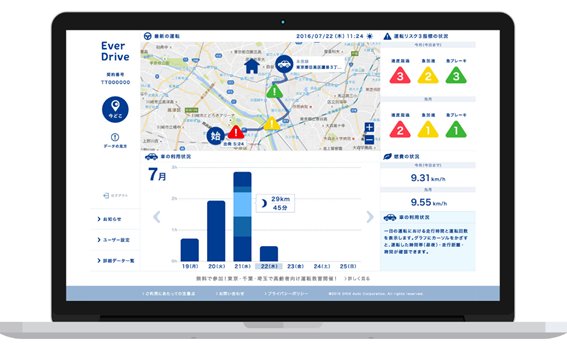 Contact Information:
ORIX Corporation
Corporate Planning Department
Tel: +81-3-3435-3121

About ORIX:
ORIX Corporation (TSE: 8591; NYSE: IX) is an opportunistic, diversified, innovation-driven global powerhouse with a proven track record of profitability. Established in 1964, ORIX at present operates a diverse portfolio of businesses in the operations, financial services, and investment spaces. ORIX's highly complementary business activities span industries including: energy, private equity, infrastructure, automotive, ship and aircraft, real estate and retail financial services. ORIX has also spread its business globally by establishing locations in a total of 40 countries and regions across the world. Through its business activities, ORIX has long been committed to corporate citizenship and environmental sustainability. For more details, please visit our website: http://www.orix.co.jp/grp/en/
Caution Concerning Forward Looking Statements:
These documents may contain forward-looking statements about expected future events and financial results that involve risks and uncertainties. Such statements are based on our current expectations and are subject to uncertainties and risks that could cause actual results to differ materially from those described in the forward-looking statements. Factors that could cause such a difference include, but are not limited to, those described under "Risk Factors" in the Company's annual report on Form 20-F filed with the United States Securities and Exchange Commission and under "4. Risk Factors" of the "Summary of Consolidated Financial Results" of the "Consolidated Financial Results April 1, 2016 - March 31, 2017."
The files are in Adobe Acrobat Format. To view them you will need Acrobat Reader

version 5.0 or greater