Home > News Releases > 2017 > HOTEL UNIVERSAL PORT VITA Scheduled to Open in Summer 2018 Seventh Official Hotel of Universal Studios Japan
November 29, 2017
HOTEL UNIVERSAL PORT VITA Scheduled to Open in Summer 2018
Seventh Official Hotel of Universal Studios Japan
TOKYO, Japan - November 29, 2017 - ORIX Real Estate Corporation ("ORIX Real Estate"), a subsidiary of ORIX Corporation, and USJ Co., Ltd. have made an official hotel agreement for its hotel currently under construction in Konohana Ward, Osaka City. HOTEL UNIVERSAL PORT VITA has been chosen as the hotel's name. Hotel construction is scheduled to for completion in April 2018, and it is scheduled to open the following July.
ORIX Real Estate began operating the official HOTEL UNIVERSAL PORT (totaling 600 guest rooms) from August of 2010. As an official hotel, we are collaborating with the park to feature popular characters inside the hotel entrance, reception lobby, communal spaces, the restaurants, guest rooms, and so on. Through the services provided by our hotel staff, equivalent to the level experienced by guests inside the park, we create a space where guests will not soon forget their excitement and enthusiasm, even after they return from the park.
HOTEL UNIVERSAL PORT VITA will have 428 guest rooms in total and a directly operated restaurant. Going forward, ORIX Real Estate will collaborate in every way possible with Universal Studios Japan to create the equivalent environment as if it is integrated into the park.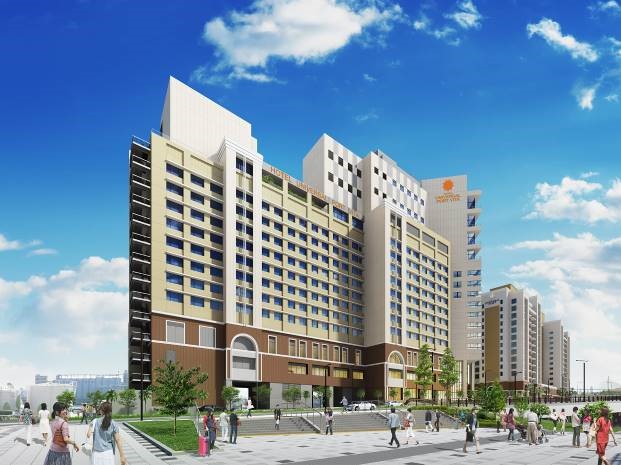 1. Facility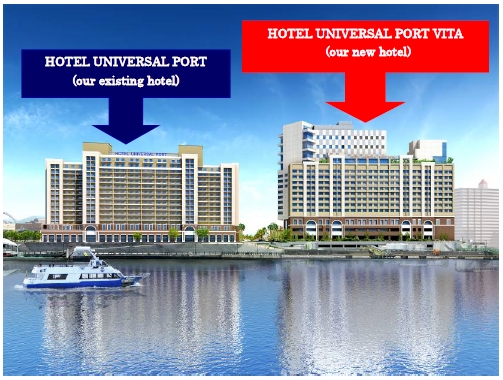 2. Concept 
This new hotel, HOTEL UNIVERSAL PORT VITA, is designed to be a vibrant place filled with great blessings from the nature and the sun, and strives to contribute to the townscape featuring the extraordinary element of entertainment at the heart of the Universal Studios Japan theme park.
3. Facility Name & Logo
Name: HOTEL UNIVERSAL PORT VITA
      *VITA is Italian and Latin for "life" in its many forms
| | |
| --- | --- |
|         | The hotel logo was designed in the image of the sun's warmth and the softness of flower petals, and in addition to portraying a sense of uplifting vitality, it expresses the hotel's sense of security and spirit of attentive hospitality. |
4. Project Outline
Address
Lot No. 403-1, 403-2 & others, 6 Shimaya, Konohana-ku, Osaka City
Site area
Site area: 4,547.17 m2, Total floor space: 35,271.47 m2
Building layout
15 floors above ground with 2 basement floors
No. of rooms
428 rooms (planned)
Dining facilities
Restaurant (1)
Access
One-minute walk from Universal City Station on the JR Yumesaki Line
By bus: 45 minutes by limousine bus from Osaka Airport (Itami)
Design/Construction
Takenaka Corporation
Interior design
MITSUI Designtec Co., Ltd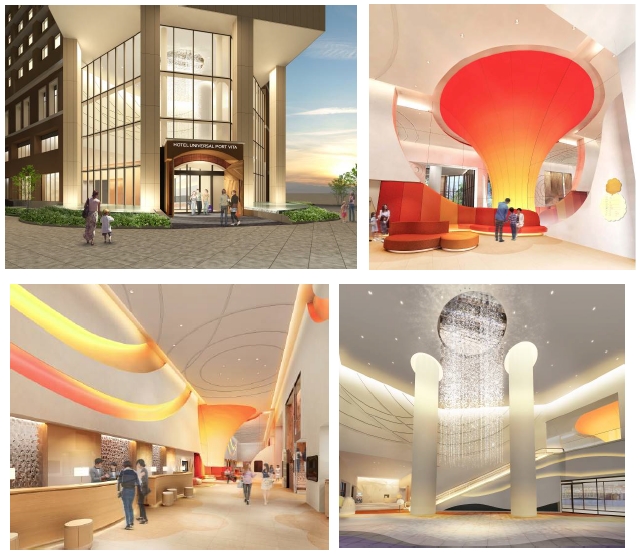 *The images are conceptual images upon completion as of September 2017, however they are subject to change.
5. Facility Details
(1) Guest rooms  
The hotel provides rooms meeting the diverse needs of families, friends, couples, and so on.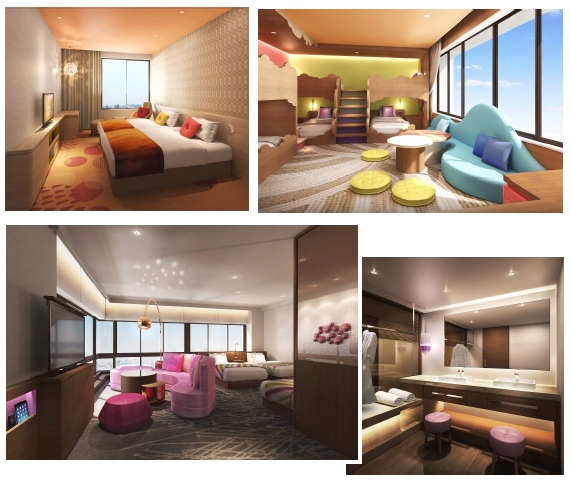 (2) Restaurant
The hotel offers a buffet-style restaurant featuring a variety of seasonal menus based on the concept of "a delicious, fun restaurant filled with the bounties of the sun."


Contact Information:
ORIX Corporation Corporate Planning Department Tel: +81-3-3435-3121
About ORIX:
ORIX Corporation (TSE: 8591; NYSE: IX) is an opportunistic, diversified, innovation-driven global powerhouse with a proven track record of profitability. Established in 1964, ORIX at present operates a diverse portfolio of businesses in the operations, financial services, and investment spaces. ORIX's highly complementary business activities span industries including: energy, private equity, infrastructure, automotive, ship and aircraft, real estate and retail financial services. ORIX has also spread its business globally by establishing locations in a total of 40 countries and regions across the world. Through its business activities, ORIX has long been committed to corporate citizenship and environmental sustainability. For more details, please visit our website: http://www.orix.co.jp/grp/en/
Caution Concerning Forward Looking Statements:
These documents may contain forward-looking statements about expected future events and financial results that involve risks and uncertainties. Such statements are based on our current expectations and are subject to uncertainties and risks that could cause actual results to differ materially from those described in the forward-looking statements. Factors that could cause such a difference include, but are not limited to, those described under "Risk Factors" in the Company's annual report on Form 20-F filed with the United States Securities and Exchange Commission and under "(4) Risk Factors" of the "1.Summary of Consolidated Financial Results" of the "Consolidated Financial Results April 1, 2016 - March 31, 2017
The files are in Adobe Acrobat Format. To view them you will need Acrobat Reader

version 5.0 or greater