Home > About ORIX > Our History
Pioneer in Lease Financing in Japan During the Period of High Economic Growth in the 1960s
ORIX Corporation was established on April 17, 1964 in Osaka, Japan as Orient Leasing Co., Ltd. by three trading companies and five banks that included Nichimen, Nissho and Iwai (presently Sojitz Corporation), the Sanwa Bank (presently MUFG Bank, Ltd.), Toyo Trust & Banking (presently Mitsubishi UFJ Trust and Bank Corporation), the Industrial Bank of Japan and Nippon Kangyo Bank (presently Mizuho Bank, Ltd.), and the Bank of Kobe (presently Sumitomo Mitsui Banking Corporation). The company's name was changed to ORIX Corporation in 1989. ORIX began operations with a 13-member staff, including current Senior Chairman Yoshihiko Miyauchi, who at the time had just recently learned the leasing business through a cooperative arrangement with U.S. Leasing International Inc. in the United States.
ORIX's initial expansion occurred during the period of sustained economic growth in Japan during the 1960s and lasted through to the early 1970s.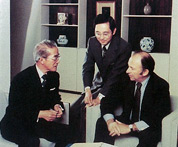 Left to Right, Second president Tsuneo Inui, Yoshihiko Miyauchi, U.S. Leasing's Henry B. Schoenfeld who cooperated in bringing the leasing business to Japan
Overcoming the Oil Shocks of the 1970s Through Diversification and Internationalization
The 1970s saw the gradual maturing of the Japanese leasing industry and the Japanese economy was adversely affected by the two oil shocks of 1973 and 1979, resulting in reduced growth in capital spending and increased volatility in foreign exchange rates.
Despite these difficulties, domestically ORIX continued to grow rapidly by expanding and diversifying its range of products and services to include loan, computer operating leasing, ship leasing and aircraft leasing.
ORIX set up a number of specialized leasing companies to tap new market potential starting with the establishment of ORIX Alpha Corporation in 1972, which concentrated on leasing office furnishings (now completely integrated within ORIX Corporation), and including ORIX Auto Leasing Corporation (presently ORIX Auto Corporation) and ORIX Rentec Corporation, Japan's first electric measuring equipment rental company, in 1976. With the establishment of the credit company Family Consumer Credit Corporation (Now ORIX Credit Corporation, presently concentrating on card loans) in 1979, ORIX began to move into the retail market by offering financing services to individuals.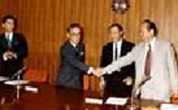 Signing ceremony for the establishment of a joint venture company with two local banks in Singapore (1972)
Promoting Group Synergies to become an Integrated Financial Service Provider in the 1980s
In the 1980s, new entrants and competition within the leasing industry increased, causing existing leasing companies to provide more specialized services related to leasing, as well as focus on increasing international leasing activities. ORIX established offices in Sri Lanka, Taiwan, China, Australia, New Zealand and Pakistan, establishing the foundation for operations in Asia and the Middle East.
Yoshihiko Miyauchi (currently ORIX's Senior Chairman) became President in 1980 after Tsuneo Inui. Keeping with the times, ORIX continued to expand its range of products and services, and placed increased emphasis on strengthening synergies among Group companies by emphasizing knowledge sharing and cooperation to make optimal use of corporate resources. This included a focus on cross selling a variety of products and services to clients, a fundamental ORIX strategy to this day.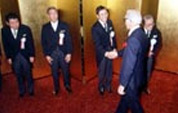 Reception celebrating the appointment of Yoshihiko Miyauchi as President, at the age of 45, in 1980
Expanding Business Lines with Unique Products and Services in the 1990s
ORIX continued to further develop its operations throughout the 1990s despite the protracted period of post-bubble industrial stagnation in the 1990s, and instability within the financial sector that plagued the Japanese economy for the latter half of the decade.
In 1991 ORIX established ORIX Life Insurance Corporation and entered the life insurance business. In addition, ORIX entered into the leasing receivables business in 1997, and established ORIX Asset Management and Loan Services Corporation in 1999. The turn of the new millennium was a period of significant growth for the investment banking business which ORIX entered under the premise of providing the first securitized non-recourse loans in Japan.
The 1990s was also decade in which ORIX first started to concentrate its efforts in developing its retail business. In September 1997 ORIX Life Insurance Corporation commenced sales by mail-order which was a revolutionary new style at that time. In addition, ORIX purchased Yamaichi Trust & Bank, Ltd. (now ORIX Bank Corporation) in 1998, and it is presently providing unique products such as internet- based time deposit services and mortgages for real estate investment.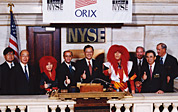 Yoshihiko Miyauchi ringing the opening bell at NYSE upon ORIX's listing in 1998
Entering new stage by experiencing Lehman Shock after its big growth in the 2000s.
In the early years of the new millennium, several of ORIX's bi-lateral expansions came to fruition. Domestic and overseas expansion, expansion of corporate and retails businesses, and the expansion of asset and fee businesses have resulted in a solid revenue base.
Specifically, the dramatic growth of the investment banking business was a key performance driver for ORIX's solid performance. ORIX Asset Management and Loan Services Corporation, with its accumulated servicing know-how, has expanded its servicing amount and real estate non-recourse loans increased in line with the popularization of securitization. Additionally, ORIX participated in large-scale corporate rehabilitation, investing in Aozora Bank in 2000 and Daikyo Corporation in 2005. In 2003, ORIX established ORIX M&A Solutions, and purchased the U.S. investment bank Houlihan Lokey Howard & Zukin in 2006.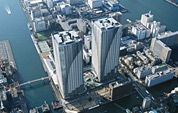 THE TOKYO TOWERS by ORIX Real Estate
Accelerating business combining finance and services to further diversify business in the 2010s
While enhancing its expertise about "finance" and "goods," ORIX is bringing even more diversity to its operations by advancing into neighboring domains one after another. In the 2010s, ORIX is adding momentum to its drive for business combining finance and services. At the same time, ORIX is shifting its axis from leasing, loans, and other finance business to expanding non-finance business such as investment and management business.
In the environment and energy business, the Great East Japan Earthquake on March 11, 2011, spurred change in social values regarding initiatives to exit from nuclear energy and promote renewable energy, and ORIX commenced operation of a biomass power plant in September 2011. ORIX started the mega-solar and rooftop solar power generation business, a move encouraged by the start of the feed-in tariff scheme for renewable energy in July 2012. In the mega-solar business, ORIX's power plants are top class in Japan. Further, ORIX began a power storage battery rental service in 2013.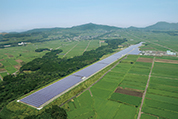 Mega-solar power plant on former site of Makurazaki Airport
Download Corporate Information
Download our history in detail
The files are in Adobe Acrobat Format. To view them you will need Acrobat Reader

version 5.0 or greater