"Bon Appetit!"

-Japanese-Style Inns Operated by ORIX-

A Venerable Japanese Inn Reborn
"Most of our family trips are to visit here, because our children always love this place"
"The view of Aizu's castle town from the outdoor hot spring is unbeatable!"
"I love the huge selection at the buffet!"
Welcome to the Onyado Toho, a Japanese-style inn in Aizuwakamatsu City, Fukushima Prefecture.
With a history stretching back over 50 years to its establishment, Onyado Toho is located in one of the prefecture's three great hot springs resorts, Higashiyama Onsen, and is proud to be one of the largest hot springs in the district. It is always bustling with family visitors.
However, at one stage, the facility was aging and the numbers of guests started to decline.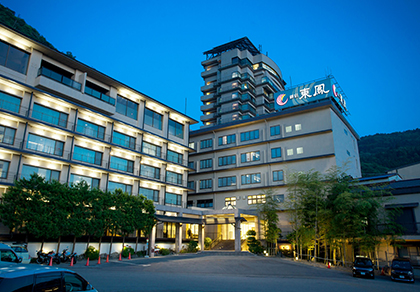 Fun for All Generations, from Grandchildren to Grandparents
ORIX began to support Onyado Toho's business in 2004. The first step was to renovate the hot spring baths.
Some customers had pointed out that despite their elevated location, the views from the baths were blocked by the heads of people sitting in front of them. ORIX responded by creating "Tanagumo no Yu," a tiered outdoor bath reminiscent of a terraced rice paddy.
Next we built a new buffet restaurant, "Agaransho" (Aizu dialect for "Bon Appetit"). Originally, traditional Japanese kaiseki dishes were served in the guestrooms, however, the facility has now changed to a buffet style, preferring instead to offer a rich menu of over 70 freshly prepared items, ranging from items prepared in an open kitchen using premium-grade local ingredients to "B-grade cuisine,"- simple, unpretentious dishes with a focus on flavor.
These renovations have resulted in an increase in guests staying as families, from grandchildren to grandparents.
However, this turnaround was not achieved by facility upgrades alone.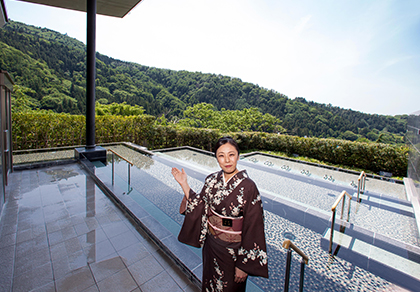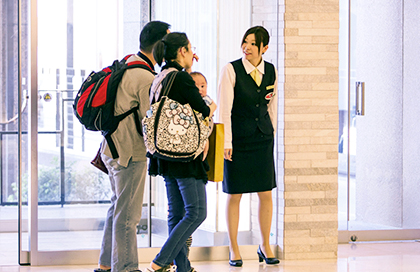 Chefs Inspired by Guests' Smiles
When people think of buffets, they usually imagine a restaurant that favors quantity over quality to suit the needs of the operators.
The chef's at Onyado Toho took pride in the traditional Japanese kaiseki dishes they prepared in the kitchen and their impression of buffet restaurants was the same. They were initially strongly opposed to the notion of preparing dishes for a buffet restaurant. However, when they actually stood in the open kitchen and saw the enjoyment on the faces of the guests eating the delicious food they had prepared, the chefs changed their minds. They were naturally inspired to create new menus so that guests could enjoy more delicious fare. They also began to take an entirely new interest in customer service.
Delighting customers begins with knowing them.
Perhaps it is because this is so obvious that it had been overlooked in the past. Understand customers first and then develop the spirit of hospitality. Upgrading the facilities is important, but it is not enough by itself.
Hearing people saying they want to return is the ultimate motivation for staff as they work together to make their guests welcome.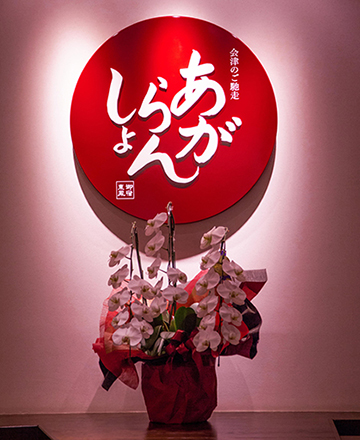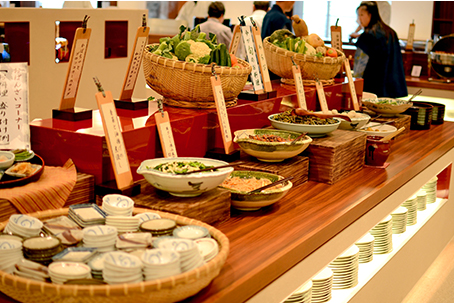 Working with the Community
We consider coexistence with the community to be of great importance in operating the inn.
Since it is a long-standing presence in the community, we believe the inn has been supported not only by the guests, but by its suppliers, employees and their families, and other people living in the surrounding area. In that spirit, when the Great East Japan Earthquake struck, we were among the first to accept people from the affected areas, providing 30,000 stays, including meals for half year. Afterward, we received heartfelt letters from those we had helped, and some have returned to stay as guests. This has reconfirmed our conviction that the inn business is really one for the community.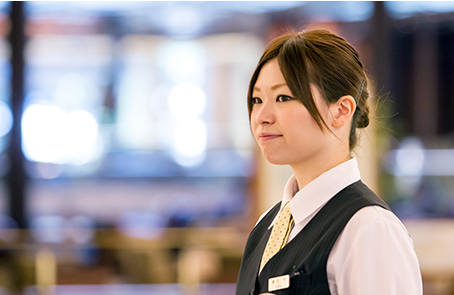 Revealing and Nurturing Hidden Attractions
Since we began operating the Japanese-style inn business in 2002, we have been involved in the operation of seven inns. In our view, operating the inn business is like discovering a hidden attraction, and then nurturing its value. Our ability to do this starts with finance, and utilizes the expertise and experience of the ORIX Group, from real estate development through to operational management.
In March 2015, in step with the opening of the Hokuriku Shinkansen line, we rebranded the Unazuki New Otani Hotel, with its delightful view of the beautiful Kurobe Gorge, changing its name to the Unazuki Suginoi Hotel* for a new start.
Through our Japanese-style inn business, we will continue to create happiness and new value for many customers as well as employees and their families.
Unazuki Suginoi Hotel was rebranded as Unazuki Yamanoha Onsen Hotel.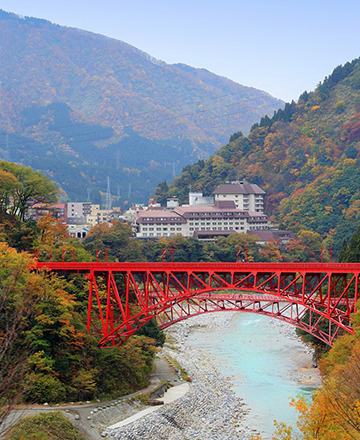 Released 07/01/2015