Home > Sustainability > Social Contribution Activities (ORIX Miyauchi Foundation) > Social Contribution Activities Overview
Social Contribution Activities Overview
Social Welfare
Inviting children from foster homes, children and adults with disabilities, and families directly affected by the Great East Japan Earthquake to professional baseball games, aquariums and hotels
ORIX invites children, adults and children with disabilities, and families directly affected by the Great East Japan Earthquake to ORIX Buffaloes' regular-season professional baseball games; the ORIX Buffaloes' Fan-Festa event held once a year; and the Sumida, Enoshima and Kyoto aquariums and hotels operated by the ORIX Group. Employee volunteers participate in the aquarium events to assist with tours for the invited guests.
Sumida Aquarium Tour
Children launch rocket balloons in the baseball stadium
Donation of Assistive Vehicles
ORIX donated 90 assistive vehicles to care facilities for disabled children throughout Japan every year since fiscal 2006 until 2016.
Donation Ceremony
An assistive vehicle donated by ORIX
Support Activities Overseas
In cooperation with EDF-JAPAN, ORIX built ORIX Education Development Centers at two schools in northeast Thailand in fiscal 2007 and 2008. Moreover, the Darunee ORIX Scholarship Program, which has been implemented through these centers since fiscal 2010, has been expanding support activities to the countries of Thailand, Laos, Vietnam, Myanmar and Cambodia, and offers scholarships to children in these countries until they graduate from junior high school.
In fiscal 2013, Typhoon Haiyan, struck the central area of the Philippines. To support relief efforts, The ORIX Foundation and ORIX METRO Leasing and Finance Corporation, a joint venture in the Philippines, together donated a total of 4.3 million pesos (approx. 10 million yen) to be used in the rescue of those affected by the disaster and the ongoing recovery of the disaster area. The relief money was used to construct Palo City's Palo National High School which completed in July 2015. Additionally, in November 2014, ORIX built a library in Wat Pho Thong School in Ayutthaya, Thailand as a donation.
Library at Wat Pho Thong School
Opening Ceremony of Palo National High School
Hands-On Experience Nature Classes
ORIX holds tree-planting experiences and experience nature classes every year in different areas of Japan, and is engaged in environmental conservation activities. Together with employee volunteers, in fiscal 2016 children in these areas participated in tree-planting experiences in Hokkaido and activities such as working on thatched roofs, known as gassho-zukuri (praying hands), in the village of Gokayama, a world heritage site, in Toyama Prefecture. Through a variety of experiences like these, ORIX aims to deepen the childrenfs understanding of the importance of forest regeneration and nurturing lush green forests in harmony with nature.
One of the experience nature classes
Children's hands-on learning program held as part of the Project to Save the Coral Reefs of Okinawa
ORIX Real Estate has been conducting the Project to Save the Coral Reefs of Okinawa

since July 2008. As part of the project, ORIX Real Estate invited children from Okinawa Prefecture to participate in a children's hands-on learning program.
In the program, the children create coral seedlings that will eventually be transplanted on the seabed at a facility owned by Okiden Kaihatsu Company, Inc. The program aims to foster a deeper understanding of the natural environment and environmental protection among the children.
The coral seedlings created by the children undergo a cultivation period of about six months before they are transplanted to the seabed in Okinawa Prefecture.
The children create coral seedlings
Support for Music, Culture and the Arts
"ORIX Award" presented at art exhibitions for children and adults with disabilities
Every December the Japanese Society for Disabled Children holds an art exhibition for children and adults with disabilities. The intent of these exhibitions is to give disabled individuals more opportunities to express themselves and participate in society and to deepen the public's understanding of disabilities. Embracing the intent and purpose of the exhibitions, ORIX has presented the "ORIX Award" to two outstanding entries every year since fiscal 2007.
The two works of art receiving the fiscal 2016 "ORIX Award"
Akira Miyagawa's "Fun" Concert
Since 2014, a composer Akira Miyagawa has been holding yearly concerts for children with social disabilities and their families in both the Kanto and Kansai regions. Furthermore, high school students and university student volunteers also participate, and ORIX is devising ways to create an atmosphere at the venues so that the entire audience can enjoy these professional performances to the fullest.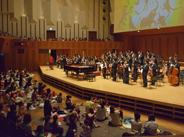 ©RIKIMARU HOTTA
Concert for parents and children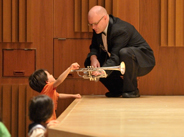 ©RIKIMARU HOTTA
Children try touching instruments at the venue
Creating Opportunities for Music Appreciation
ORIX sponsors activities contributing to the development and popularization of music in Japan, fosters young musicians, supports disabled artists, and sponsors music festivals.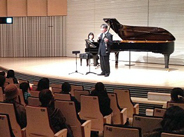 Tokyo Philharmonic Orchestra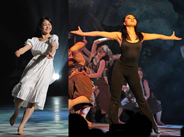 Musical "Gateway to Tomorrow"
Support Activities for Children Who Create Our Future
The ORIX Miyauchi Foundation, a corporate foundation established by the ORIX Group, celebrated its 10th anniversary in 2016. As a new commemorative initiative, it began support activities focused on alleviating child poverty in Osaka, the birthplace of the ORIX Group. One of these activities comprises ORIX giving support to the "Children's Cafeteria," which provides meals for mother-and-child families who are not able to obtain satisfying meals by themselves. Looking ahead, ORIX will continue to expand its support for individuals and organizations that are coordinating activities in the public interest, especially those related to the healthy development of children and young people.
Letters from children